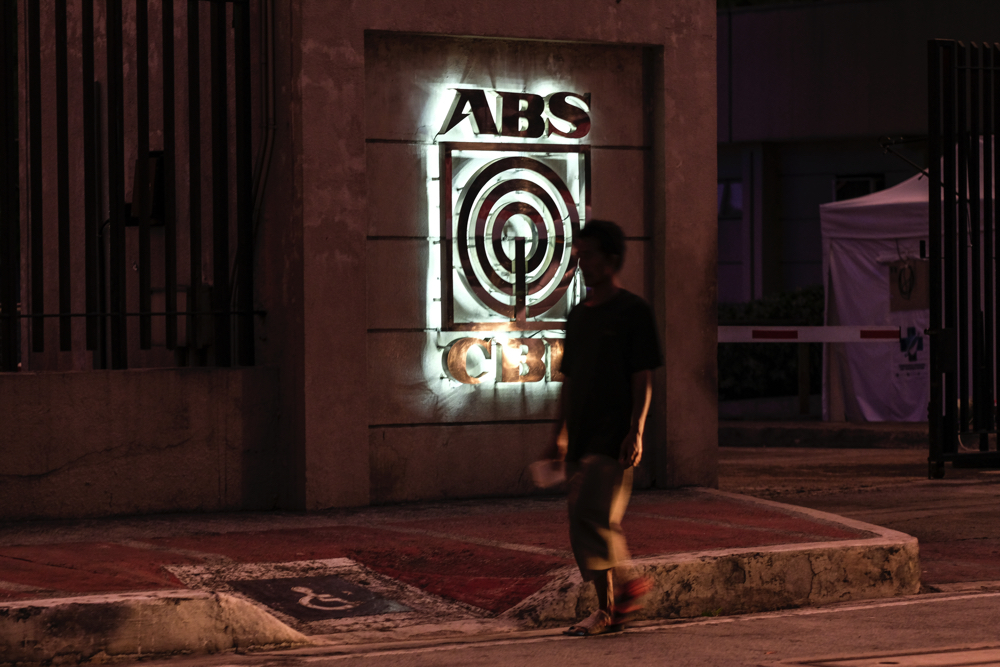 At the ABS-CBN gates, hope shines eternal. Contributed Photo
The COVID-19 pandemic in the Philippines compelled broadcasting to radically downscale its operations. Days before the Philippine state's "enhanced community quarantine" (the strictest form of quarantine enforced in high risk places) took effect last 16 March, 2020, the leading network, Alto Broadcasting Corporation-Chronicle Broadcasting Network (ABS-CBN) and its closest competitor Global Media Arts (GMA) Network, both announced suspension of TV productions, mostly of daily soap operas popularly known as "teleseryes" (Marquez 2020; Mercurio 2020). While still carrying news, both devoted vacated timeslots to teleserye re-runs (Anarcon 2020; Anarcon 2020b). My study of the cultural history of the teleserye indicates that on regular days, at least nine of the 18-hour average broadcast airing carried teleseryes. It was the most logical televisual fare for people forced to shelter at home.
And it was a reasonable reprieve, given the delay of the government's various social amelioration programs. Reports from the field reveal many underserved (Umil 2020). Television entertainment, to say the least, brings levity in an already tense situation. On social media, we observed excitement over the airing of old soap opera favorites, like May Bukas Pa (There's Still Tomorrow), a 2009 ABS-CBN series about a young boy who has visions of Jesus Christ and thus brings peace and healing to his community; and for a highly traditional and Catholic country, the controversial My Husband's Lover, a 2013 GMA series that features infidelity and homosexual relations. Some even made requests for ABS-CBN to re-run its popular 1990s educational programs, which was eventually granted (Abante.com.ph, March 30, 2020).
Given all these, it is quite automatic to deplore the culture industry of Philippine TV for being, once again, an "opiate to the masses" in a time of uncertainty. Television and the teleserye are platforms of popular culture and the usual attitude, mainly from the educated in the Philippines, is to dismiss them as obtuse, if not, vulgar. Teleserye narratives endlessly spin the melodrama of the triumph of the good and righteous, amidst pathos and pails of tears. In the end, for elitists, COVID-19 may simply be turned into another teleserye of miracles and resilience, as reruns help renew people's false optimism and extend their patience while in dire straits.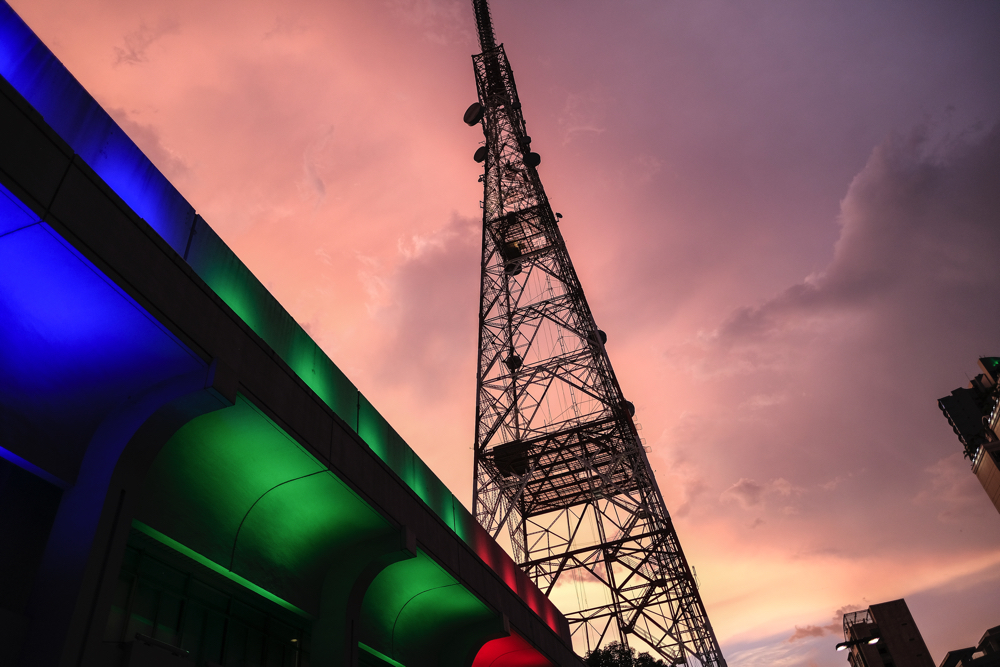 Prior to, and since its shutdown, ABS-CBN premises have been bathed in light sporting its corporate colors, a sign of resistance. Contributed Photo
A Plot Twist
However, broadcasting is set to transcend all these when it became a battleground for a compelling drama involving one its own. Finally finding an opportunity to conclude a long-standing feud with ABS-CBN, whose congressional franchise renewal has long been in peril, the Rodrigo Duterte administration, through Philippine National Telecommunications Commission (NTC), slapped the network with a cease-and-desist order (CDO) last May 5, 2020, effectively shutting down its operations. The franchise expired the day before, May 4, 2020. With no Congress in session, and with NTC backing out of an initial pledge to provisionally extend the franchise, ABS-CBN suddenly found itself the beleaguered in a teleserye of its own, and in the time of pandemic. Its story has turned for the worse, though acquiring international media attention (Rappler.com, May 6, 2020).
As in any teleserye, the ABS-CBN shutdown requires foregrounding. The feud began in 2016, when then presidential candidate Duterte expressed displeasure over ABS-CBN's failure to air some of his local TV campaign advertisements, despite full payment (ABS-CBN News.com, February 25, 2020). The network later explained that airtime limits set by Philippine election rules prevented it from airing the ads (ibid).
In a Senate franchise renewal hearing before the quarantine, the network apologized to the President and reiterated the desire to refund the amount of unaired materials (ibid). Duterte has grudgingly refused the refund, as his party also continued to take offense on the network's airing of ads where he is severely criticized, paid for by no less than former Senator Antonio Trillanes, his staunch critic (Ranada 2016).
ABS-CBN had continuously drawn the ire of the President because of its reportage critical of his bloody war against illegal drugs. In several instances, Duterte threatened to veto ABS-CBN's franchise renewal should it pass both houses of Congress (Abad 2020). Observers are of the opinion that Duterte's own tirades against the network caused non-action in the lower chamber, where he holds a strong supermajority. In teleseryes, this is a delay or cliffhanger in the political narrative, meant to put pressure on the network and buy airtime for opportunists to stage grandstanding. It stalls and propels the political romance.
Casts of Antagonists
Meanwhile, this teleserye narrative is very clear: Duterte is kontrabida, antagonist par excellence, strongman in demeanor, reeking of underhandedness, banking on popularity and blind following. He employs henchmen on the loose, aves de rapiña (birds of prey) of our time, to do the dirty work.
One of them is Solicitor General Jose Calida, his old faithful, who filed a quo warranto case against the network at the Philippine Supreme Court last 27 February, 2020 (Nakpil 2020). The case seeks to revoke the network's franchise for alleged violations, which at the time of writing is still being heard, along with ABS-CBN's recent plea for a temporary restraining order against the NTC's CDO. Calida, perceived to have pressured the NTC into issuing the CDO, on pain of prosecution (Madarang 2020), first earned notoriety for filing a quo warranto case in 2018 against another Duterte critic, Philippine Supreme Court Chief Justice Maria Lourdes Sereno, leading to her ouster (Buan 2018).
Another is the current Speaker of the House himself, Representative Alan Peter Cayetano, Duterte's running mate, who lost to Vice President Leni Robredo in 2016. Cayetano lashed out at his critics in the congressional podium on 13 March, 2020, insisting that "this issue is not, nor has it ever been about silencing media nor curtailing the freedom of the press" (Mercado 2020). At the height of online protests against the shutdown, Cayetano was blamed by fellow legislators for allowing the impasse that led to the CDO (De la Cruz 2020).
Completing the cast is the chorus of pro-administration trolls who perpetrate smear campaigns against the network, among other activities like spreading fake news, meant to "protect the President" in the court of social media opinion.
Backstories
ABS-CBN management insists that it is being singled out, a position widely upheld by various academic and civil society groups, and fortified by its own stable of stars and sympathetic social media influencers. In its platforms, it had also aggressively responded to allegations of violation against franchise laws, corporate tax and labor issues, as well as questions pertaining to the citizenship of its owners (ABS-CBN News.com, May 11, 2020).
Reports also insinuate that ABS-CBN is being forced to sell its holdings to a tycoon close to Duterte, which was recently denied (Camus 2020). As a wide-reaching platform with diversified interests, ABS-CBN accounts for 40.99% of the total 88.77% reach of television in the country (Media Ownership Monitor Philippines), making it not only commercially but politically viable.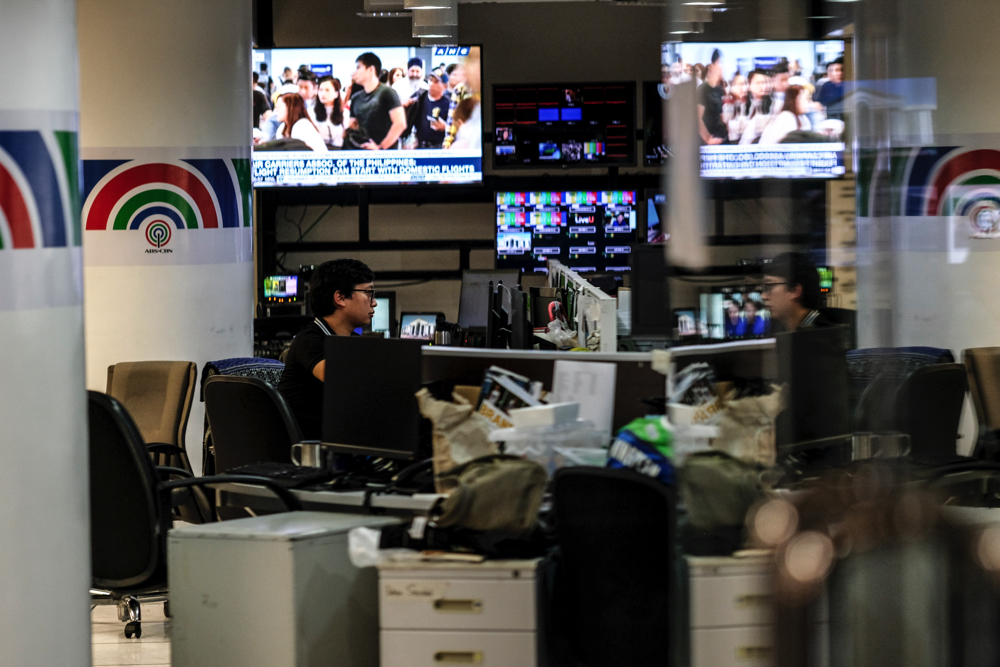 Staffers of the ABS-CBN News Department in their daily grind—despite the threat of a shutdown. Contributed Photo
The network has an illustrious history marred by politicking. Since the 1950s, the Lopez family, a highly influential clan belonging to the powerful sugar industry bloc of the Visayas islands in central Philippines, has been operating the network, among other media assets. Criticism and concession have became the family's game, as it utilized the network to protect business interests, especially in the political arena (McCoy 2010, 429-536). Then and now, this has compromised ABS-CBN's position as part of the fourth estate.
ABS-CBN was first closed down in 1972, along with other media outlets, during the imposition of Martial Law. Before this, the Lopez family had been having a political enmity with then-President Marcos, who used to be an ally (Magno 1998, 123-141). The network and other Lopez companies were sequestered by the government. The Lopez family reemerged only after the 1986 People Power Revolution that toppled the Marcos dictatorship, reclaiming ABS-CBN and its businesses, after intense lobbying with the new government.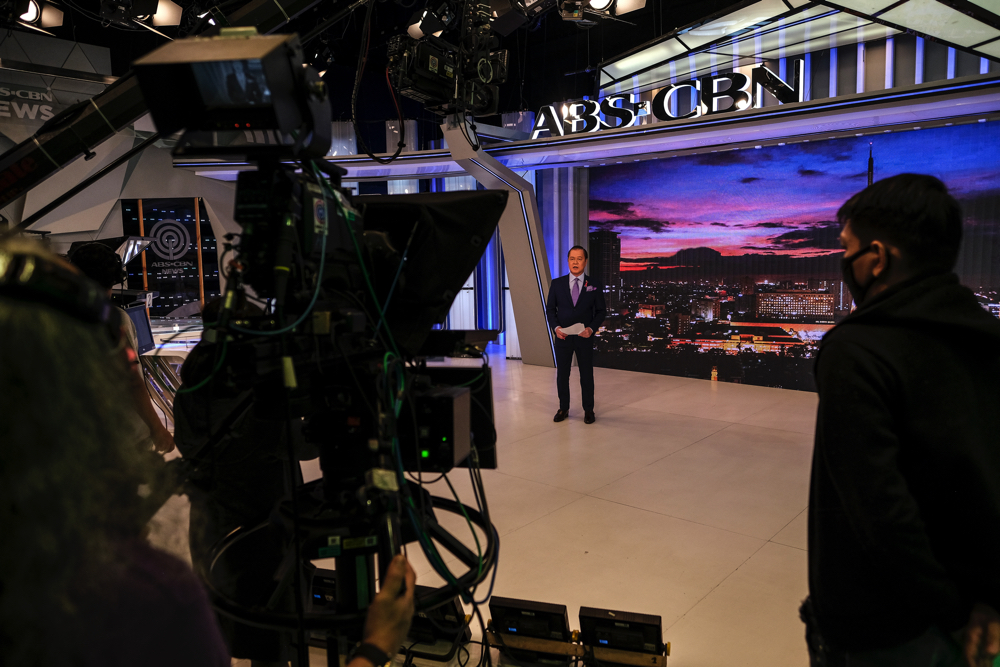 ABS-CBN star newscaster Noli de Castro, who served as Philippine vice president from 2004 to 2010, reads the nightly news. Contributed Photo
ABS-CBN has been wielding influence and power in society in many ways, and for us, the high points of this were the two instances it produced Philippine vice presidents—Lopez scion, and himself erstwhile ABS-CBN chair Fernando Sr. (1949-1953, under President Elpidio Quirino; 1965-1972, under President Ferdinand Marcos Sr.), and Noli de Castro (2004-2010, under President Gloria Macapagal Arroyo), the network's post-1986 star news anchor (Sanchez 2020).
The network's recent strife with Duterte is but another chapter of politicking that brought it to a crisis. As in the time of Marcos, it was once again brought to its knees. If we leave it to history, we may expect the network to reemerge, being that the Lopezes are oligarchs of the first kind, "deeply…embedded in Philippine society" (McCoy 2010, xviii). Proof of this is ABS-CBN's surprise return through its cable and digital platforms two days after the shutdown.
Towards Resolution
In a time of pandemic, the shutdown posed very serious implications. ABS-CBN employs more than 11,000 workers across its 42 television stations, 10 digital broadcast channels, 18 FM stations and 5 AM stations—all ordered to cease operations (ABS-CBN News.com, May 5, 2020). ABS-CBN chief executive officer Carlo Katigbak admitted in a remote senate inquiry that if it does not resume operations, the network may be forced to retrench some of its employees by August 2020 (Rey 2020). This dilemma echoed reports of daily losses amounting to 35 million pesos (US$ 700 thousand) and credit servicing problems, on top of the suspension of the network's stocks trading at the Philippine Stock Exchange (Rivas 2020).
The shutdown has also limited people's access to information at a time when it is most needed. Even as the state continued to promote other sources of news, such as the government-run People's Television (PTV) Network, and ABS-CBN's rival GMA Network, ABS-CBN's absence was acutely felt in many areas where it had the strongest broadcast signal. This was observed during the onslaught of Typhoon "Vongfong" (local name "Ambo"), which ravaged parts of Central and Northern Philippines from 13-16 March, 2020 (Malasig 2020), leading to information blackout in far flung localities. The lack of access to the internet also prevents many from accessing ABS-CBN through its digital platforms.
While ABS-CBN has made a partial comeback through these platforms—like any teleserye bida or protagonist surprising audiences with resurrections—there is no certainty yet for the institution, most especially its workers. No peripeteia for the good, for now. The network's online performance is said to be promising, though economic returns are yet to be seen (Olandres 2020).
Meanwhile, audiences have found both spectacle and cause in ABS-CBN, as they while away quarantine time. As ABS-CBN conquered the internet with its shift to online broadcasting, social media became rife with debates, for or against the franchise renewal. The issue also started renewed crackdown on pro-administration troll accounts when one of the network's most popular fandoms organized a series of "blockparties," still in support of the franchise renewal. On Facebook, two Philippine national artists for literature, novelist F. Sionil José and scholar Bienvenido Lumbera, weighed in, offering opposing views. These compete for attention along with other pressing concerns like clamors for government accountability for the more than P200 billion pesos (US$ 4 billion) of allocated public funds, appeals for COVID-19 mass testing, and critiques against policy flip-flopping and patronage politics.
Media Ownership Monitor Philippines 2013 data show that TV is "the most used (99 percent) and most trusted (58 percent) source of political information and thus is likely to have an impact on public opinion." Moreover, free-to-air channels such as ABS-CBN are considered the most popular, especially among the lower classes (ibid). Much as the Duterte administration tries to portray the shutdown as part of his crusade against oligarchs, it is clear that this is a war against information, aimed at silencing critical voices especially amidst this crisis. The ABS-CBN shutdown is arguably the climax of this Philippine plot of the pandemic, exposing this government's gross ineptitude. Which leaves us wondering: what will the Filipino people, the real bidas of this teleserye, do now?
22 May, 2020
References
Abad, Michelle. 2020. TIMELINE: Duterte against ABS-CBN's franchise renewal. Rappler.com. 17 January. https://www.rappler.com/newsbreak/iq/249550-timeline-duterte-against-abs-cbn-franchise-renewal. (Accessed 22 May, 2020).
ABS-CBN chief says all Duterte national pol ads aired. 2020. ABS-CBN News.com. 25 February. https://news.abs-cbn.com/news/02/24/20/abs-cbn-chief-says-all-duterte-national-pol-ads-aired. (Accessed 22 May, 2020).
ABS-CBN to go off air in compliance with NTC order. 2020. ABS-CBN News.com. 5 May. https://news.abs-cbn.com/news/05/05/20/abs-cbn-to-go-off-air-in-compliance-with-ntc-order. (Accessed 22 May, 2020).
Anarcon, James Patrick. 2020. ABS-CBN announces temporary lineup of primetime programs as teleseryes go on taping break. Philippine Entertainment Portal.ph. 14 March. https://www.pep.ph/guide/tv/150068/abs-cbn-temporary-lineup-of-primetime-programs-a724-20200314?ref=home_featured_1. (Accessed 22 May, 2020).
ーーー. 2020. GMA-7 suspends production of teleseryes, entertainment shows to combat spread of COVID-19. Philippine Entertainment Portal.ph. 14 March. https://www.pep.ph/guide/tv/150072/gma-7-suspends-production-teleseryes-entertainment-shows-covid-19-a724-20200314. (Accessed 22 May, 2020).
Balik-ere ng 'Sine'skwela', 'Bayani, 'Hiraya Manawari' pinagbunyi ng mga fan ('Sine'skwela', 'Bayani, 'Hiraya Manawari' reruns delight fans). 2020. Abante.com.ph [Advance]. 30 March. https://www.abante.com.ph/balik-ere-ng-sineskwela-bayani-hiraya-manawari-pinagbunyi-ng-mga-fan.htm. (Accessed 22 May, 2020).
Buan, Lian. 2018. Supreme Court ousts Chief Justice Sereno. Rappler.com. 11 May. https://www.rappler.com/nation/202236-sereno-ousted-supreme-court-quo-warranto-decision. (Accessed 22 May, 2020).
Camus, Miguel. Duterte ally says no plan to buy ABS-CBN. Philippine Daily Inquirer.net. 4 January. https://business.inquirer.net/286534/duterte-ally-says-no-plan-to-buy-abs-cbn. (Accessed 27 May, 2020).
De la Cruz, Jovee Marie. 2020. Cayetano blamed for ABS-CBN closure. Business Mirror.com.ph. 6 May. https://businessmirror.com.ph/2020/05/06/cayetano-blamed-for-abs-cbn-closure. (Accessed 22 May, 2020).
"How foreign media are covering ABS-CBN's shutdown." 2020. Rappler.com. 6 May. https://www.rappler.com/nation/260084-how-foreign-media-covering-abs-cbn-shutdown. (Accessed 22 May, 2020).
Madarang, Catalina Ricci. 2020. Does Calida have a hand in ABS-CBN shutdown? Interaksyon.com. 6 May. https://www.interaksyon.com/politics-issues/2020/05/06/167855/does-calida-have-a-hand-in-abs-cbn-shutdown. (Accessed 22 May, 2020).
Magno, Alexander. 1998. Kasaysayan: The Story of the Filipino People Vol. 9, A Nation Reborn. Hong Kong: Asia Publishing Company Limited.
Malasig, Jeline. 2020. Closure of ABS-CBN broadcast operations affects Filipinos in far-flung areas amid Ambo's onslaught. Interaksyon.com. 15 May. https://www.interaksyon.com/politics-issues/2020/05/15/168549/closure-abs-cbn-broadcast-operations-affects-filipinos-in-far-flung-areas-amid-ambos-onslaught/?utm_medium=Social&utm_source=Facebook#Echobox=1589532753. (Accessed 22 May, 2020).
Marquez, Consuelo. 2020. Amid COVID-19 threat, ABS-CBN suspends live shows and 'teleserye' productions. Philippine Daily Inquirer.net. 14 March. https://newsinfo.inquirer.net/1241747/amid-covid-19-threat-abs-cbn-suspends-live-shows-and-teleserye-production. (Accessed 22 May, 2020).
McCoy, Alfred. 2010. An Anarchy of Families: State and Family in the Philippines. Quezon City: Ateneo de Manila University Press.
Media Ownership Monitor Philippines. 2013. Television. http://philippines.mom-rsf.org/en/media/tv. (Accessed 22 May, 2020).
Mercado. Neil Arwin. ABS-CBN franchise issue not about silencing the media–Cayetano. Philippine Daily Inquirer.net. 13 March. https://newsinfo.inquirer.net/1274508/abs-cbn-franchise-issue-not-about-silencing-media-cayetano. (Accessed 22 May, 2020).
Mercurio, Richmond. 2020. TV networks halt production of shows. Philippine Star.com. 17 March. https://www.philstar.com/nation/2020/03/17/2001429/tv-networks-halt-production-shows. (Accessed 22 May, 2020).
Mga katanungan tungkol sa ABS-CBN franchise, sasagutin [Answering Questions about the ABS-CBN franchise]. 2020. ABS-CBN News.com. 11 May. https://news.abs-cbn.com/spotlight/multimedia/video/05/11/20/mga-katanungan-tungkol-sa-abs-cbn-franchise-sasagutin. (Accessed 27 May, 2020).
Nakpil, Danielle. 2020. OSG to ABS-CBN: Quo warranto filed to 'correct public wrong.' CNN Philippines.com. 27 February. https://cnnphilippines.com/news/2020/2/27/Solicitor-General-Calida-ABS-CBN-quo-warranto-comment-reply.html?fbclid=IwAR2f4-svaVjGJam9QXjLQgGBq3rSnNM_MCn16Y0BQDYkPe9eps7Kth0-cok. (Accessed 22 May, 2020).
Olandres, Abe. 2020. ABS-CBN going Digital: By the Numbers. Yugatech.com. 15 May. https://www.yugatech.com/business/abs-cbn-going-digital-by-the-numbers/#sthash.NfrAaVsH.dpbs. (Accessed 22 May, 2020).
Ranada, Pia. 2016. Anti-Duterte ad by Trillanes riles up Duterte supporters. Rappler.com. 6 May. https://www.rappler.com/nation/politics/elections/2016/131969-anti-duterte-ad-trillanes. (Accessed 22 May, 2020).
Rey, Aika. 2020. Without a franchise, ABS-CBN may start laying off workers by August. Rappler.com. 19 May. https://www.rappler.com/nation/261338-abs-cbn-may-start-laying-off-august-2020-without-new-franchise. (Accessed 22 May, 2020).
Rivas, Ralf. 2020. ABS-CBN losing P35 million per day as it goes off-air. Rappler.com. 8 May. https://www.rappler.com/business/260298-abs-cbn-losing-millions-per-day-off-air. (Accessed 22 May, 2020).
Sánchez, Louie Jon. 2020. Magandang Gabi, Bayan (Good Evening, Nation). louiejonasanchez.com. https://louiejonasanchez.com/2020/05/05/magandang-gabi-bayan/. (Accessed 22 May, 2020).
Umil, Anne Marxze. Social amelioration program, inadequate, slow. Bulatlat.com [literally, to Sift Through]. 17 April. https://www.bulatlat.com/2020/04/17/social-amelioration-program-inadequate-slow/. (Accessed 22 May, 2020).
BIO:
Louie Jon A. Sánchez is assistant professor of English, Ateneo de Manila University in the Philippines. He teaches writing, literature, popular culture, and television studies. In 2015, he introduced an undergraduate elective course on the teleserye at the Ateneo, which eventually grew into two books, both in press—his dissertation Ang Drama ng Ating Búhay: Isang Kultural na Kasaysayan ng Teleserye (The Drama of Our Lives: A Cultural History of the Teleserye, De La Salle University Publishing House) and Abangán: Mga Pambungad na Resepsiyon sa Kultura ng Teleserye (Watch for It: Introductory Receptions on the Culture of the Teleserye, Ateneo de Naga University Press). He is associate editor of Suvannabhumi, a multidisciplinary journal of Southeast Asian studies, Korea Institute of ASEAN Studies, Busan University of Foreign Studies.
Citation
Louie Jon A. Sánchez. 2020. "Philippines TV Network Shutdown as a COVID-19 'Teleserye'" CSEAS NEWSLETTER, 78: TBC.