Confining ourselves to a "COVID-free" island seems to be the safest way to live in a pandemic world. Bohol, the island province in Central Visayas, managed to remain COVID-free until the end of April by closing the provincial borders, although the infection has spread throughout the Philippines. As a Japanese citizen, stranded in Tagbilaran City of Bohol with my family, including a two-year-old child I have been able to enjoy a secured life in a COVID-free "fortress."i Yet now, the province is facing difficult challenges to open it. I explore why residents in Bohol held out for maintaining a "fortress" and how they are adopting its collapse.
"Peaceful" Quarantine Life in Bohol
On 15 March, 2020, the Philippines national government implemented "community quarantine" in response to the spread of the COVID-19 infection in Metro Manila. Many local governments followed suit. In the province of Bohol, there was only one confirmed case from China in February 2020. There were no new cases on 13 March when the provincial government announced to implement the community quarantine measures, which were mainly suspension of ships and airplanes to the island and curfew at night. While Metro Manila introduced the quarantine to contain itself, Bohol decided to close provincial borders to make the province a COVID-free "fortress.
On 23 March, the Bohol provincial government ordered a 24-hour curfew for all young (under 18 years) and senior citizens (60 years and above) and the temporary closure of nonessential business establishments. All residents were required to carry a quarantine pass when going out. Many other quarantine measures, including a ban on alcohol consumption outside the house, the mandatory use of masks, and the prohibition of rides on the backs of motorcycles, were enacted at the same time.
As residents in Bohol, we were initially surprised and frustrated by these measures. However, after a few weeks, we grew accustomed to our new lives and were quietly following the rules, while we turned blind eyes to slight violations among ourselves such as the children playing in front of the house and the stores opening with shutters halfway up. Grocery items were not in short supply and the crime rate reportedly declining. Quarantine life here seemed to allow us to live in "relative peace."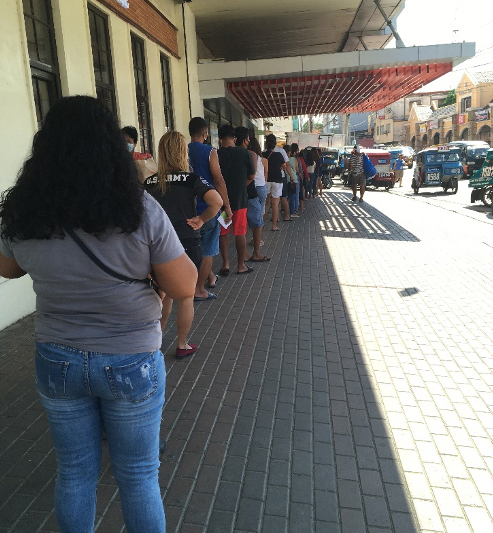 Customers' line at the entrance of shopping mall in Tagbilaran City. Source: Author
Nevertheless, those who lost income are facing severe economic hardship. The national government instituted a P200 billion ($3.94 billion) social amelioration program which distributes the emergency subsidies to indigent families. The local government units and the Department of Social Welfare and Development have provided relief goods. The provincial governor Art Yap also announced allocation of P150 million in food aid ($2.95 million) as part of a P700 million stimulus package to feed those affected by the government's measures and maintain their livelihoods. Since May 1, the provincial government has relaxed measures under a "general community quarantine" (GCQ) and allowed some business establishments to open.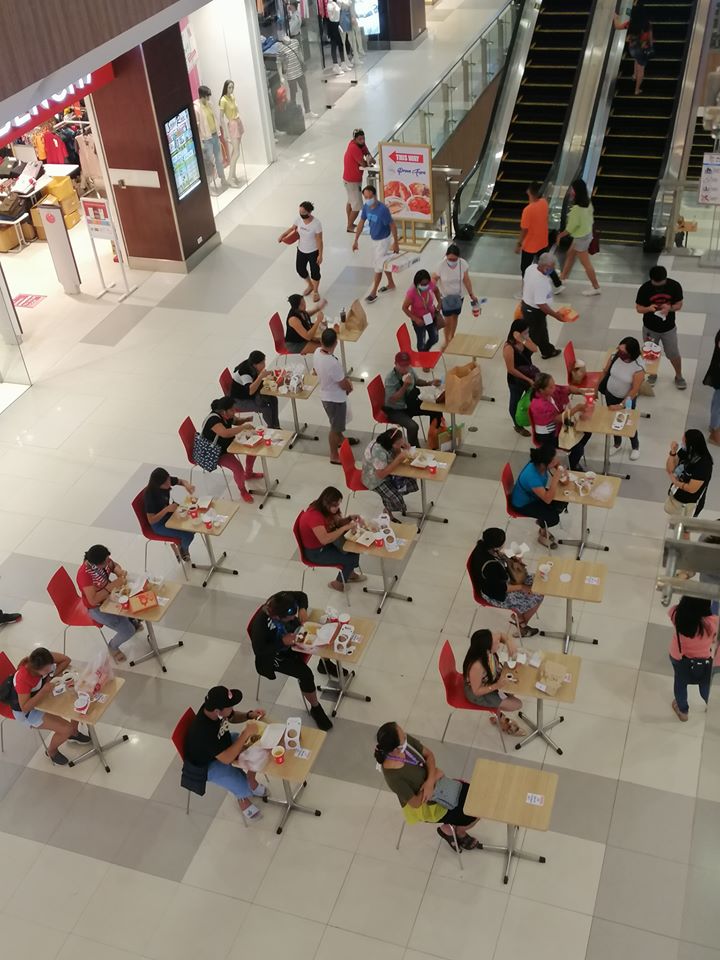 A fast food restaurant inside a shopping mall in Tagbilaran City that reopened after easing business restrictions Source: Bohol Chronicle Facebook Page.
Collapse of the "Fortress"
Despite the economic damage, residents in Bohol have been protected from at least a direct risk of infection. However, it recently became apparent that closing the provincial borders to maintain a COVID-free "fortress" was not a sustainable solution. The "fortress" actually comes at the expense of more than 9,000 stranded Boholanos in various localities outside the province, who are waiting to return, and it is unrealistic to prevent their entry until the end of the pandemic
Bohol's quarantine measures resulted in a larger number of stranded people than other areas because the province strictly prohibited the return of residents. In addition, a travel ban originally scheduled as a "dry run" for five days, ended up being extended on the scheduled end date.ii Those outside of the province have been complaining about their plight.iii
Residents in Bohol have sympathized with the hardships of their compatriots, but strongly opposed their return to prevent the influx of the infection into the province.iv This was because people shared a strong sense of spatial dichotomy between a "clean inside" and a "contaminated outside." They were afraid that once the infection came into the province, the "fortress" would quickly turn into a "hazardous cage," due to a vulnerable medical infrastructure. Residents had the worst-case scenario in mind, therefore they were desperate to preserve the existing dichotomy.
Moreover, fears of an "external threat" were reinforced by the rapid increase of infected cases in the neighboring province of Cebuv (186 cases as of 20 April, 522 cases as of 27 April and 1,047 cases as of 5 May) and by people who illegally sailed from there to Bohol.vi Responding to public sentiment, the provincial government has been wary of accepting stranded residents, while providing economic support to them through cash transfers.
However, the stalemate was changed by the coordination for repatriation of Overseas Filipino Workers (OFWs), who usually comprise 10% of the Filipino population. The Overseas Workers Welfare Administration has provided transportation for those returning from abroad, as well as food and accommodation after arrival at international airports. The national agencies increased pressure on local governments to accept returnees due to limitations with quarantine facilities in Manila. When the accommodating capacity reached its limit on May 3, commercial flights to and from the Philippines were substantially reduced.vii
At the insistence of the national government, Bohol accepted 65 Boholano OFWs, who had been stranded in Cebu and Manila, on 28 April. A few days later, it was reported that two of them had tested positive for COVID-19 in the PCR test after entering the province. The regional director of the Department of Health initially explained that these two OFWs might be "false positive" because of the negative results of antibody tests also done on both returnees. Then one of the two OFWs again yielded a positive result in a confirmatory PCR test. People were disappointed that Bohol was no longer COVID-free, but at the same time there was a little change in their attitude. Comments section of the news article was filled with opinions calling for reliable testing methods and transparency of information, as well as those opposing further repatriation.
Incorporating the Risk of Infection into "Inside"
Local government and residents, who previously clung to protecting a COVID-free Bohol by sealing off borders, have increasingly voiced constructive opinions about how to accept returnees. The change in their attitude can be attributed to the realization that repatriation is unavoidable given the long process of vaccine development and mass immunization. Furthermore, people gradually adopted optimistic prospects, in part because other provinces such as Negros Oriental and Iloilo were able to prevent an outbreak of the disease even after they accepted OFWs in the mid-April and several infected cases were confirmed among the returnees. The situation has moved on to the next phase. It is important for the future of Bohol to balance the repatriation of stranded Boholanos, economic recovery, and prevention of the spread of infection. In particular, the following will be difficult challenges.
First, there is the dilemma of repatriation from the neighboring province of Cebu, where thousands of Boholanos are stranded. The number of confirmed COVID-19 cases is increasing in the province with 1,769 cases as of 19 May. Accepting people from Cebu may entail a high risk, but overly strict restriction may lead to more unofficial entries from the sea.
The second challenge is how to properly allocate limited medical resources including quarantine facilities and testing capacity. Although border control measures tend to attract significant public concern, the local government should cautiously assess the necessity and cost-effectiveness of the measures in order to allocate enough resources to internal infection controls.
It is necessary for the government and people of Bohol to change the policy and our individual mindsets from focusing on maintaining a "fortress" to one aimed at controlling "risks inside." It will be a long and difficult process, as implemented in a number of countries and regions around the world.
To be honest, I wanted to confine myself in the "fortress." It is natural to be afraid of "incorporating the risk of infection" or "admitting that it is already inside." According to Ennis-McMillan and Hedges (2020), the human tendency to divide society into "us" and "others" when fear strikes becomes especially prevalent during infectious disease epidemics and leads people to physically distance themselves from perceived sources of transmission.
However, now that the "fortress" is collapsing, we should face the fears within us to cope with the threat of COVID-19.
19 May, 2020
(A longer version of this article will be published in the SES Journal of Applied Ethics.)
BIO:
Asuna Yoshizawa is a PhD student at the Kyoto University in Area Studies. Her research interests include Muslim-Christian relationships and grassroots peacebuilding in Southern Philippines.
i Previous studies on infectious disease epidemics have reported people's psychological tendency similar to the current situation in Bohol. Schoch-Spana (2006) pointed that the U.S. policy on the H5N1 avian influenza epidemic in Asia and the Middle East showed a "fortress mentality." See Monica Schoch-Spana. 2006. Post-Katrina, Pre-Pandemic America. Anthropology News. January 2006.
ii For example, 130 travelers from Manila who were supposed to board a boat from Bato in Leyte in anticipation of the end of the travel ban could not enter Bohol and are stranded in an evacuation center in Bato. See Bohol Chronicle (20 March, 2020) "Stranded Boholanos in Bato, Leyte get P300k aid" https://www.boholchronicle.com.ph/2020/03/20/stranded-boholanos-in-bato-leyte-get-p300k-aid/ (Accessed 20 April, 2020)
iii They use social medias for appealing their hardships to officials and other residents. For example, see the comments section of Governor Yap's posts on Facebook. https://web.facebook.com/artcyap/posts/2668264263459197 (Accessed 20 April, 2020)
iv When Governor Yap announced the "Oplan Exodus," a plan to let stranded Boholanos return home, on April 14, it drew flak from various sectors including medical experts. See Bohol Chronicle (18 April, 2020) "Bohol Medical Society 'strongly opposes' Oplan Exodus" https://www.boholchronicle.com.ph/2020/04/18/bohol-medical-society-strongly-opposes-oplan-exodus/ (Accessed 21 April, 2020)
v The province of Cebu in this article includes Cebu City, Lapu-Lapu City and Mandaue City.
vi Rumors of "people illegally arriving in coastal villages from nearby islands by small boats" have been around since the introduction of the quarantine. On 20 April, a local newspaper reported that two police officers who came to Bohol from Cebu were being quarantined in Tagbilaran City and would be charged for violating quarantine rules prohibiting inbound travel. See Bohol Chronicle (20 April, 2020) "2 cops from Cebu quarantined at Tagbilaran facility" https://www.boholchronicle.com.ph/2020/04/20/2-cops-from-cebu-quarantined-at-tagbilaran-facility/ (Accessed 26 April, 2020)
vii According to the Department of Transportation, the government has already accommodated around 20,000 repatriates who are quarantined in Metro Manila, with an arrival rate of 2,000 per day. See Facebook page of the Department of Transportation https://web.facebook.com/DOTrPH/posts/1687604174712045 (Accessed 3 May 2020)
Citation
Asuna Yoshizawa. 2020. "Opening a COVID-free 'Fortress': Bohol's Experience" CSEAS NEWSLETTER, 78: TBC.