At the time of this writing, on 3 June 2020, the number of confirmed cases of COVID-19 infection has reached 6.4 million, with over 378,000 deaths around the world (John Hopkins University, 3 June, 2020). Each day, roughly 100,000 new cases are announced. We are still in the midst of turmoil, and it seems premature for a historian to bash governments or laugh at people's actions. This article relates, instead, how communities in Mindanao are transforming themselves through mobilization in order to create an epidemic prevention order, with an emphasis on grassroots conservativism.
Northern Mindanao has a population of roughly 5 million people and, by 27 May, 2020, the area has thirty-one confirmed COVID-19 cases, with seven deaths. It is, at this time, arguable that the various preventive measures against COVID-19 infection have brought about greater changes in people's lives than the virus itself. As in the cases of Timor-Leste and many Indonesian Outer Islands, early warnings concerning the novel corona virus by the mass media and the government in January, along with its relatively late arrival in March, provided advantageous conditions for slowing down the pandemic, in comparison to cases such as Luzon, Java, Singapore, and the United States (CF. News from One Mindanao; TV Patrol North Mindanao; East Timor Guide Post; Singaporean Ministry of Health; Wikipedia "COVID-19 Pandemic in Indonesia"; Democracy Now, 2020). This article, thus, focuses on recording how, exactly, North Mindanaoan people and various institutions have reacted to the spread of COVID-19, and how they have changed people's ways of life.
Background
The majority of the present Northern Mindanaoan people can trace their origins to the massive 20th century migration from the Visayas and Luzon and other areas within Mindanao (Tigno, 2006). Puerto, in Cagayan de Oro City (CDO), my current research base, is called a gateway from CDO to Bukidnon in the interior, as well as to the northeastern part of the island. Puerto was a vast swampy bushland before the Del Monte corporation built a cannery in the neighboring town of Bugo in the 1930s. It was then cleared and came to be inhabited by migrants, mostly of Visayan origin, who became employees of Del Monte, fishermen, fish vendors, smugglers, and so forth (Interviews with Brenda 2020; Dora, 2019; Ema, 2019; Leonila 2019; Marina, 2020; and Monica, 2019).
The majority in CDO are Catholics, though they live together with Protestants without any notable religious friction. The pioneers of Puerto and surrounding towns originated from different islands such as Bohol, Negros, Cebu, Leyte, Camiguin, and Luzon. Thus, barangay festivals, religious activities, and trade relationships are important in creating and maintaining trust among inhabitants. However, the positioning of minority Muslims has been rather sensitive over the past several decades. Of course, separatist movements in Mindanao are well-known. To my knowledge, very few Christians develop friendships with Muslims. Since the war in 2017 made Marawi a "Ground Zero," many Maranaos have sought refuge in CDO and Iligan as well as Internally Displaced Persons (IDP) camps in Lanao. In addition, the visible spread of shabu (methamphetamine) and other illegal drugs during the term of President Aquino III (2010-2016) and the violent crackdown during President Duterte's "War on Drugs" intensified social tensions in many towns in Mindanao (Interviews with Amera, 2019; and Dora, 2019).
Mindanaoan People, Meeting Places, and Corona "Panic"
Mindanaoan people began to respond to corona-related news even before COVID-19 arrived the island, with most carefully following corona-related news since January (Interviews with Anonymous 22 May 2020; and Saramae,2020). As the first case of COVID-19 infection in the Philippines was announced on January 30, and the first death on February 2, hoarding of ethyl alcohol and surgical masks happened in many towns in Mindanao, including Iligan, Ginoog, and Cagayan de Oro. At the time, officers of the Department of Health (DOH) began testing suspected cases and emphasizing the importance of hand-washing and "social distancing of one to two meters." The instances of hoarding were described by DOH officers as "panicking," noting that wearing face masks was not advisable for the members of the general public who did not already have symptoms (TV Patrol, 31 January and 1 February). In February, the DOH dealt with COVID-19 only as one of many diseases, because African swine fever, polio, and dengue fever have also been rampant in recent years. As one aid worker from Medicins sans Frontieres noted concerning Marawi, many Mindanaoans were apparently socially prepared for the pandemic situation because of their experience of conflict and natural disaster (Masuho, 2020).
When we returned to our family compound in Puerto on February 19, no COVID-19 case had been confirmed in Mindanao. However, Singapore, from where we were returning, was a different case, with announcements of dozens of cases of infection. Thus, barangay officers instructed us to self-quarantine for fourteen days, to which we agreed. Our family and relatives made COVID-19 related jokes about us, and no one dared to share food from the same dishes or cups. They told us later that they were highly cautious concerning possible infection from us (Interviews with Anonymous, 22 May 2020, and Saramae 2020). Some others were scaring neighbors by sharing baseless conspiracy theories about the "artificial origin of the novel coronavirus."
Nonetheless, Cagayanos from the neighborhood and downtown areas, and even barangay officers kept visiting us during our fourteen-day self-quarantine. None of them wore face masks. Moreover, during the latter half of February, our compound celebrated four birthday parties, and dozens of people visited one house after another. Some questioned whether or not I was safe with my "Chinese" appearance, but most of them supposed that we should "contribute," as expected for "stranger kings" and overseas workers in Island Southeast Asia.
Later on, our neighbors told me that they "knew how to deal with the virus." Since January, the DOH and mass media have emphasized that humans might contract COVID-19 mainly via droplets, spittle and close contact with people who demonstrate symptoms. As we did not show any symptoms, according to neighbors, they had to be careful only regarding our saliva. In addition, I heard that people of Puerto came to consider us "safe," because a local seer of divine visions declared our health following her prayer over my family (Interviews with Anonymous, 22 May 2020, and Saramae, 2020). These examples demonstrate the significance of messages delivered by people with various types of authority.
In the first week of March, the police force of Puerto cracked down on illegally-operating tricycles, both those who were running on highways and those within the traditional market. During this operation, a traffic officer was murdered, shot by an unidentified person (TV Patrol, March 2 and 3). Despite this, the traditional market in Puerto was as jolly and chaotic as ever. Shopkeepers were eager to sell fish from Zamboanga, fruits, vegetables, and crops from Bukidnon, as well as various housewares and pirated DVDs of unknown origin. The narrow pathways were full of sellers, customers and tricycles. Visitors could laugh at the usual spectacles as follows: someone near the highway screamed, "Police! Police are here!" In the next moment, dozens of tricycles in the market started running hurriedly towards the opposite exit. The only visible effect of "corona panic" was that street children sold hand-made face masks instead of eco-bags.
The social environment was quickly altered following the first COVID-19 case in Mindanao (or, Patient No. 40 in the Philippines), which was announced on March 11. A taxi driver told us that the patient was an "old Muslim woman" who "came back from Saudi Arabia," then became sick and was sent to a hospital in CDO. Such a rumor circulated for a few days. As we checked the news, it turned out that the Patient No. 40 was a 54 year-old man who had come back from Luzon, and eventually passed away (TV Patrol, 11 and 12 March; and Timonera, 2020).
Many institutions and communities mobilized right away. Misamis Oriental preemptively declared a State of Calamity on the same day, and banned social gatherings (Saliring, 2020). The Catholic Church and schools cancelled meetings and classes. GMA and ABS-CBN arranged special coverage for the COVID-19 situation in Mindanao. On the next day, certain foods and ethyl alcohol disappeared from the Gaysano Mall Puerto due to hoarding. All shopping malls restricted entrance, and security guards were installed with ethyl alcohol and digital temperature guns. Within residential areas, each compound shut its gates, stopping peoples' movement and throwing sanitizer in the road perhaps in an attempt to clean it. It seemed the people were waiting for this, and were trying to isolate themselves more strictly than the government requested. Probably the recent migrant origin and relative late arrival of COVID-19 conditioned Mindanaoan society for such quick mobilization.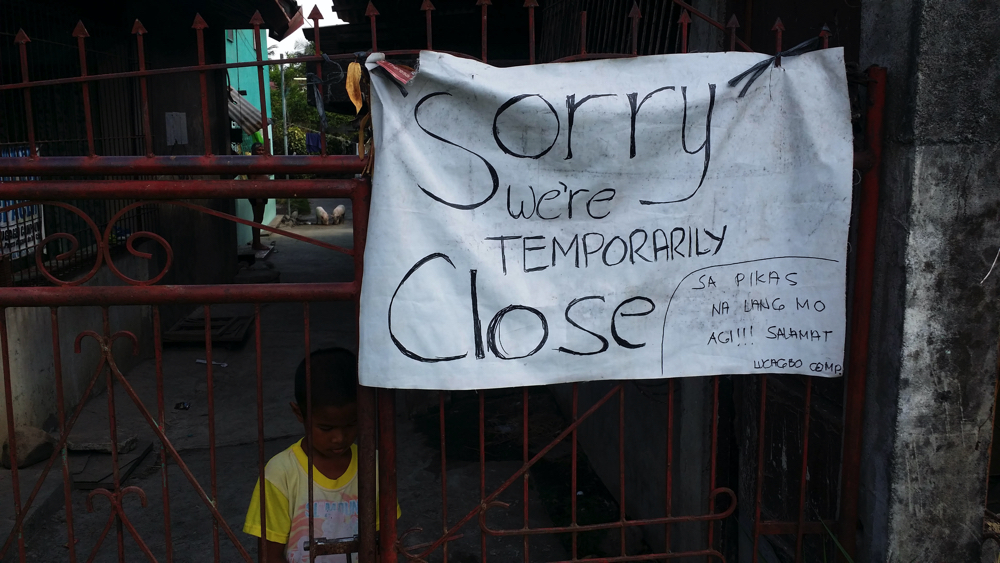 'Wrong grammar or joke? "Sorry we're temporarily close" Zone 1, Puerto,' Picture by Kisho Tsuchiya, 15 May, 2020
On March 16, most provinces in the Philippines were put under the General Community Quarantine (GCQ) scheme, and Luzon and Cebu under an Enhanced Community Quarantine (ECQ). People were allowed to go out only for grocery shopping, and were under curfew at night. Moreover, wearing face masks became obligatory in the public sphere under a city ordinance. While DOH officers initially announced that face masks were not recommended, after 43 days, a 10,000-peso fine (US$ 199) could be charged for not wearing them (TV Patrol, 11 March, 2020). Those who did not have surgical masks had to wear hand-made masks, or worse, towels – whose efficiency for COVID-19 prevention was unknown – around their faces.
Under the GCQ, the situation was extremely difficult in Marawi, where the core infrastructure was destroyed during the war in 2017. In Marawi, and particularly in the IDP camp, it was impossible for the local community to secure means to prevent various epidemics (e.g. water to wash hands and ethyl alcohol). NGOs identified this as the "most vulnerable area," and managed to deploy units in March to supply water, basic medical kits, and information for epidemic prevention and control (Masuho, 2020).
The early COVID-19 patients in Mindanao were returnees from Luzon. As this was broadcast, people of CDO began uttering support for a lockdown in Luzon. An important context here, I think, was local news concerning Tagalog-speaking gangs that had kidnapped several Cagayano children since last year. It was a rare experience to hear usually-nationalistic Christian Cagayanos' complaints about how people of Luzon treat Mindanao, including jokes about an "independent Mindanao." While, in Luzon, there was a prominent opposition to President Duterte's decision for a community quarantine, people I know in Puerto were mostly supportive of the president.
The spread of COVID-19 cases in Mindanao after mid-March has often been attributed to the large event of Six-Cock Derby held three times at the New Davao Matina Gallera since March 6. At least 43 cases of infection in Davao, Bukidnon, Cotabato, Maguindanao, and Butuan were confirmed from among those who attended these events (Arguillas, 2020). Then, several COVID-19 clusters were identified in Davao, and the city was put under ECQ on April 2. At the time of this writing, roughly 400 cases have been confirmed in Mindanao, and the majority are from Davao region.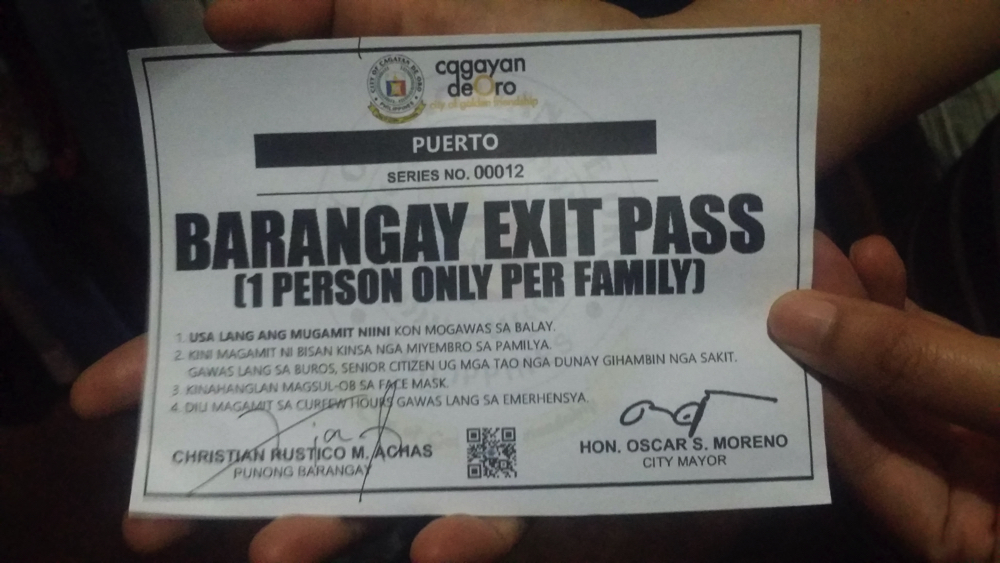 "Barangay Exit Pass" Picture by Kisho Tsuchiya, 17 April 2020
Life under the GCQ and the Creation of a "New Normal"
"New Normal" is a phrase that came from above. However, various institutions and people are creating the "new normal" in their own ways. Although the GCQ has obvious problems (e.g. maintenance of household income and unfamiliar "social distancing"), Mindanaoan societies have never lacked difficulties, even before COVID-19. "New normal" is also used as a bio-political discourse to attack what they call "the Filipino mindset."
At the beginning of the GCQ, people faced many difficulties in adjusting to new ways. Many people visited grocery stores in malls, and found it impossible to maintain "social distance." Soon, all malls and markets restricted entrance, and taught customers to queue in an orderly fashion. Then, on April 16, the local government issued a Barangay Exit Pass (BEP) scheme, allowing only one person from a family to go out at one time. People gradually learned how to wear face masks (which they actually did not know how to do before COVID-19.), maintain "social distance," and to carry a BEP. As people participated in community quarantine, however, violators and "risks" became more and more visible.
Certain age groups were identified as "risks." Senior citizens (over sixty years old) and youth (below seventeen years old) have experienced particularly stressful times under the GCQ. Under the BEP scheme, they are officially not permitted to go outside of their compounds, and there was no exception in March. Only in May did the government make an exception for senior citizens living alone. But, what about a senior citizen who lives with a sickly partner or an abnormal child? In such cases, senior citizens have to take part in informal businesses e.g., selling balut (fertilized and boiled) eggs, fried potatoes, or even begging which are perceived as "risks."
For university students, the beginning of the GCQ was shocking. A nursing student told me "most students were concerned about the final exam and grades, or their ruined plans for summer vacation rather than the virus itself." For him, life under the GCQ was boring and frustrating in the beginning. Soon, however, he grew accustomed to life under the GCQ. Now, he says "some officials cannot abide by their own rules. Policemen who throw big birthday parties are not good examples." He plans to maintain "social distancing" even after the GCQ. (Interview with Dominique, 23 May, 2020)
The current epidemic prevention order caused serious economic damage to a family dependent on an Overseas Filipino Worker (OFW). An OFW returned to Puerto for vacation, but the change in March deprived her of the opportunity to go back to Saudi Arabia for work. The whole family is now in difficulty. Her sister says, "We realized that we cannot survive if we depend on one sister abroad. We siblings plan to work after GCQ" (Interview with Saramae, 24 May, 2020). Currently, one million OFW are displaced from their work, and the Philippines will accept an estimated 45,000 OFWs by the end of June (Manlangit, 2020). This will probably be the focus of epidemic prevention in the coming months.
Some say that the GCQ has brought positive changes, particularly through containing "troublemakers" in their families. One told me "previously, drug dealers were looking around at night. My family member was also arrested before. But, during GCQ, they stay at home and behave well" (Interview with Anonymous, 24 May, 2020). Another person told me "some children were missing from our compound. There was a rumor that they were involved in stealing and prostitution. Now under GCQ, they came back and live with their relatives. In the town, street children are visibly reduced" (Interview with Anonymous 22 May, 2020). They consider this GCQ period as a chance to renew family ties.
Thus, social life in Puerto and other parts of Mindanao is in the process of a significant transformation, toward a kind of "unity" and "order" in the effort to slow down the spread of COVID-19. In addition, hunting members of the New People's Army and drug lords are under on-going community quarantine. Through interviews, I found that now many people are bashing what they perceive as a "persistent Filipino mindset" including delinquency, hardheadedness, cock-fighting, drug-dealing, indiscipline, and "unnecessary gatherings." Hesitatingly, I call this "grass-roots conservatism," but we should carefully analyze what such bashing of the "Filipino mindset" may actually mean and how it will renew social reality over the following months.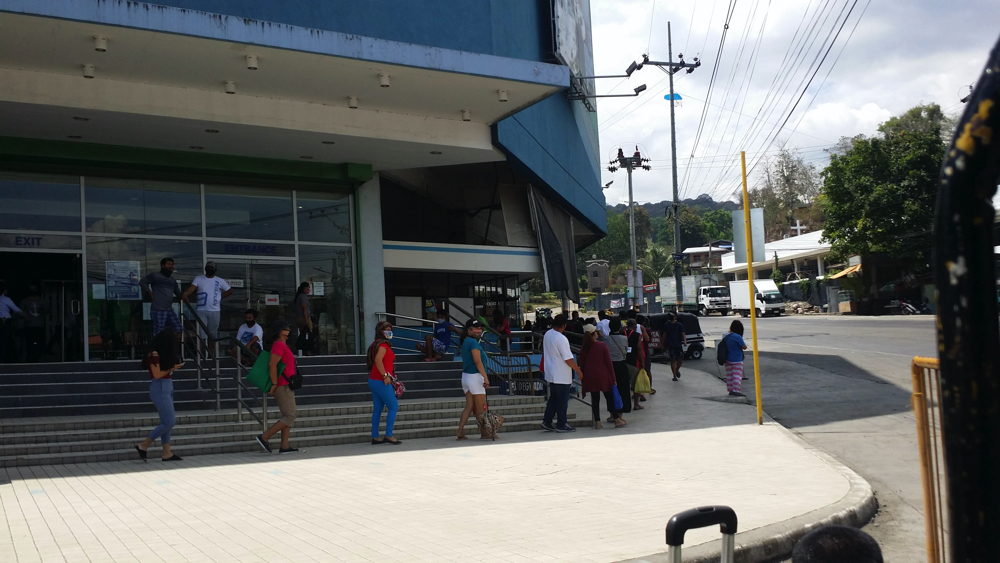 "Social distancing" in front of Gaysano Mall Puerto. Picture by Kisho Tsuchiya, 15 May 2020
February to May, 2020
Unpublished Interviews with respondents
– Anonymous, CDO, (22 May, 2020)
– Anonymous, CDO, (24 May, 2020)
– Amerah, CDO, (23 August, 2019)
– Brenda, CDO, (24 February, 2020)
– Dominique, CDO, (23 May, 2020)
– Dora, CDO, (21 August, 2019)
– Ema, CDO, (8 August, 2019)
– Leonila, CDO, (15 August, 2019)
– Marilyn, Valencia, (6 March, 2020)
– Marina, CDO, (28 February, 2020)
– Monica, CDO, (8 August, 2019)
– Reynaldo, CDO, (14 March, 2020)
– Saramae, CDO, (24 May, 2020)
References
Alwen Saliring. 11 March 2020. "MisOr under state of calamity," SunStar Cagayan de Oro. https://www.sunstar.com.ph/article/1847965 (Accessed on 25 May, 2020)
Antonio j. Montalván II. 30 September, 2009. "New Archaeological Site Discovered," Heritage Conservation Advocates, http://heritage.elizaga.net/news/index.htm (Accessed on 25 May, 2020)
Bobby Lagsa. 20 May, 2020. "After 18 days of zero reports, CDO records 5th COVID-19 death," Rappler. https://www.rappler.com/nation/261474-cagayan-de-oro-records-fifth-coronavirus-death-may-20-2020 (Accessed on 25 May, 2020)
Bobby Timonera. 12 March 2020. "Mindanao's first COVID-19 case went home to Lanao Sur before admission in Iligan hospital and later CDO," Minda News. https://www.mindanews.com/top-stories/2020/03/mindanaos-first-COVID-19-case-went-home-to-lanao-sur-before-admission-in-iligan-hospital-and-later-cdo/ (Accessed on 25 May, 2020)
Chihiro Masuho. 7 May 2020. "国境なき医師団「日本人職員が見た途上国・感染症対策の苦難と希望」(Kokyo naki Ishidan "Nihonjin Shokuin ga Mita tojokoku, Kansenshotaisaku no kunan to kibo")[Interview with Chika Suefuji of Medicine sans Frontiere: a Japanese staff member's view on challenge and hope in epidemic prevention in a developing country] Courier Japon. https://courrier.jp/ (Accessed on 25 May, 2020)
Carolyn O. Arguillas, 22 April, 2020. "At least 43 COVID-19 cases in Mindanao traced to Davao's 6-cock derby," MindaNews. https://www.mindanews.com/ (Accessed on 25 May, 2020)
Democracy Now. 25 May 2020. "Noam Chomsky on Trump's disastrous Coronavirus response, WHO, China, Gaza and global capitalism." https://www.democracynow.org (Accessed on 25 May, 2020)
Francisco Demetrio y Radaza. 1968. The village: Early Cagayan de Oro in legend and history, Cagayan de Oro City: Xavier University.
Jorge V. Tigno. 2006. "Migration and violent conflict in Mindanao," Population Review, Vol. 45, no. 1, 23-47.
Mary Manlangit. 18 May, 2020. "The hurting heroes: The COVID-19 crisis and overseas Filipino workers," The Diplomat. https://thediplomat.com/2020/05/the-hurting-heroes-the-COVID-19-crisis-and-overseas-filipino-workers/ (Accessed on 25 May, 2020)
Wikipedia. "COVID-19 pandemic in Indonesia," available at https://en.wikipedia.org/wiki/COVID-19_pandemic_in_Indonesia (All sources confirmed as of 27 May, 2020)
BIO:
Dr. Kisho Tsuchiya is a postdoctoral fellow at the Department of History at the National University of Singapore. His current research is supported by the Reconceptualizing the Cold War: On-the-ground Experiences in Asia project (MOE2018-T2-1-138). He specializes in modern history of Southeast Asia. Prior to post-graduate studies, he was a staff member of the United Nations' Electoral Support Team in Timor-Leste (UNEST). Since then, he ventured away from the United Nations, and pursued master's degree in Southeast Asian Studies (2013) and a PhD in History (2018) both at the National University of Singapore.
Citation
Kisho Tsuchiya. 2020. "COVID-19 Prevention and Society: A View from Northern Mindanao" CSEAS NEWSLETTER, 78: TBC.