Amongst people wearing masks, coming and leaving, my friend and I met in the middle of the busy Payathai Train Station walkway. We took off our masks and embraced. Little did we know that it was the last safest day to travel anywhere. Also on that day, 7 March, Thailand recorded its first COVID-19 death. The following week, I traveled to Laos for a break. It was the safest place in the Mekong Region then.
We barely noticed that Vietnam and Cambodia shuttered their borders on 15 and 16 March, despite very low infection and no reported death until now.
By then, hundreds of cases were discovered in Thailand. I was on my way back to Thailand as the borders starting to close down.
The turn of events changed overnight. Laos suspended all types of visas to foreign tourists including ASEAN countries effective midnight of 20 March. Thailand closed down its borders with Laos, Cambodia, Vietnam, and Myanmar on 21 March. By then, hundreds of cases were discovered in Thailand. I was on my way back to Thailand as the borders starting to close down.
Laos shares borders with Vietnam to the east, Cambodia to the south, Thailand to the west, and Myanmar and China to the north. Due to its location and frequent border crossings from neighboring countries, Laos is vulnerable to the entry of infectious diseases like COVID-19.
The border closing affected Filipinos and other migrant workers seeking visas either for work or tourism in the Mekong. Usually, foreigners seeking to work in Thailand apply for a visa in the Thai Consular Office in Vientiane or Savannakhet in Laos. Border crossings are also an option among migrants who cannot secure Non-B or a work visa in Thailand. Upon a border crossing, you can get another 15-30 day free stay in Thailand.
OFWs in the Mekong Region
Since the 1970s, the Philippines has been exporting human resources to different countries. With over 2.2 million Overseas Filipino Workers (OFW) around the world, their remittance contributed to 10.22% to the Gross Domestic Product in 2018 (The Global Economy, 2018). There are around 1,600 Filipinos in Laos working as teachers, in the IT, development workers, and engineers (Novio, 20 March 2020). In a 2017 report by the Department of Employment of Thailand, 14,830 Filipinos are taking jobs in teaching, management, engineering, architecture, hospitality, and business (Fernquest, 2017). The Philippine Embassy estimated that there are 17,921 in the same year (Novio, 2017).
In 2019 data, an estimated 6,773 Filipinos in Cambodia worked in entertainment, businesses, development organizations, and the education sector (Business Mirror, 16 September 2019). In Vietnam, the Philippine Embassy reported that in 2013, around 5,000 Filipinos were working as educators, and in the tourism and hospitality industries (Mueller, 2013).
These statistics may have excluded undocumented OFWs. Undocumented workers are those not processed by the Philippine Overseas Employment Agency (POEA). They are usually direct hires or tourists upon entry in the region.
In the Mekong Region, the 'no work, no pay policy' in most schools, offices, and entertainment industry, where many OFWs work, are left in a vulnerable situation. If infected, the high cost of hospitalization could drain their limited savings even if they are covered with insurance. The Philippine Embassies, as well as the Filipino communities, are still providing relief operation like handing outs of food and hygiene packs.
On 18 April, 310 OFWs from Vietnam and Cambodia arrived in Manila whilst OFWs in Laos choose to stay. More repatriates from Thailand are expected since schools will open on 1 July. The first batch of OFWs from Thailand arrived in Manila on 24 April. The repatriates are undergoing a state-sanctioned 14-day quarantine before they can go home to their provinces.
There is also no clear re-integration program for repatriates. This is despite the Migrant Workers Act of 1995 RA 8042 (1995) mandate that protects and promotes the welfare of migrant workers and their families as well as to assist overseas Filipinos in distress. The one-time cash aid of $200 or PHP 10,000 by the DOLE-Akap Cash Assistance (Department of Labor and Employment) for the OFW affected by COVID-19 will be given to provided one has met the qualifications set by the agency.
A labor-sending country since the '70s, the Philippines enacted laws for the protection of the migrant workers with the creation of POEA and Overseas Workers Welfare Administration in 1982, and RA 8042 in 1995. But none protect them from the neglect in their home country. Also, the laws require OFWs to pay various fees to be able to return to their workplaces.
COVID-19 exposes the weakness of the Philippine government. Social services and providing decent employment opportunities for Filipinos are not given importance. The pro-China stance of the Duterte government prioritizes jobs for offshore gaming online to Chinese nationals in the Philippines, whilst denying Filipino employment.
Filipinos are conditioned to become human exports in the guise of better life and opportunities abroad to address the perennial problem of joblessness in the country. The rising cost of living, expensive education, the deteriorating health care system, and reduced social services make it almost impossible for an ordinary OFW to make ends meet. Unless the Philippine government addresses the cause of poverty which is systemic corruption in all levels of governance, migration continues.
Meanwhile, the Mekong Region, once a haven for thousands of OFWs, has been facing economic difficulties which may not end soon. Countries like Thailand and Cambodia have relaxed their visa policies to accommodate workers and tourists who had unable to renew their visas or overstayed due to COVID-19 until July 2020. Still, the OFWs are left with only two options: stay in the host country or be repatriated to the Philippines in times of uncertainty.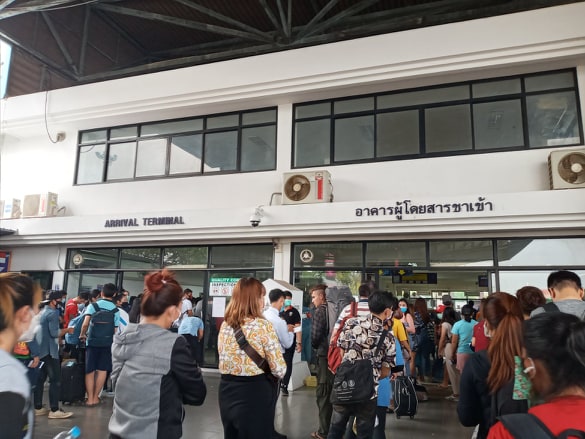 migrants crossing the Lao-Thai border on 20 March
3 May, 2020
BIO:
Eunice Barbara C Novio is a Thailand-based freelance journalist. She is also a lecturer at Vongchavalitkul University in Nakhon Ratchasima and adjunct lecturer at Philippine Christian University-Saint Robert's Global Education. Her articles have appeared on Asia Times, Asian Correspondent, America Media, Thai Enquirer, Bangkok Post, The Nation and Kyoto Review of Southeast Asia. She is a correspondent of Inquirer.net US and Canada Bureau. She is a two-time Plaridel Awardee of the Philippine American Press Club.
Citation
Eunice Barbara C Novio. 2020. "Uncertainties Hound Overseas Filipinos in the Mekong Region" CSEAS NEWSLETTER, 78: TBC.