It was March when the ongoing pandemic became real for Indonesians. As soon as President Jokowi announced the first COVID-19 patient on March 2, 2020 (Kompas, 2020), people became aware of their daily activities. They felt unprepared and the tension was palpable. At present, infections in Indonesia stand at 66,226 cases with 3,309 deaths as of 9, July 2020 (WHO 2020). From mid-March, human interactions made a shift from the physical to the virtual.
In observing the current situation, I saw many people from different walks of life who needed to be motivated virtually. As an illustrator who often observes social issues, I felt compelled to respond to conditions through my drawings to show solidarity with those viewing them.
The use of social media has greatly increased since the beginning of the #stayathome period by 14% during the day and 12% at night, according to the Director of Consumer Service from Telkom Indonesia (CNN Indonesia, 2020). As the coronavirus has become our everyday conversation topic, people have tuned in to social media to find information, share concerns, and express their frustrations. As one observer has noted "(n)ot only is social media shaped by our very human reactions and interests, but it also shapes our individual mindsets in turn" (Widerhold 2020).
People initially used social media to campaign about staying home, sharing reports about the situation nationwide, discussing difficulties and lamenting the poor conditions of healthcare workers. I personally felt inspired to draw about these issues.
As the number of positive cases has increased, some eye-catching images appeared in chat groups. On 19 March, selfies from healthcare workers in hazmat suits holding writings such as "I stay at work for you, you stay home for us" went viral (Suara, 2020). Many reposted such pictures, but I felt there was a lack of visual support for such workers. So, I started to draw to keep their spirits up. Some days later, I posted the drawing (below), and online media reposted it.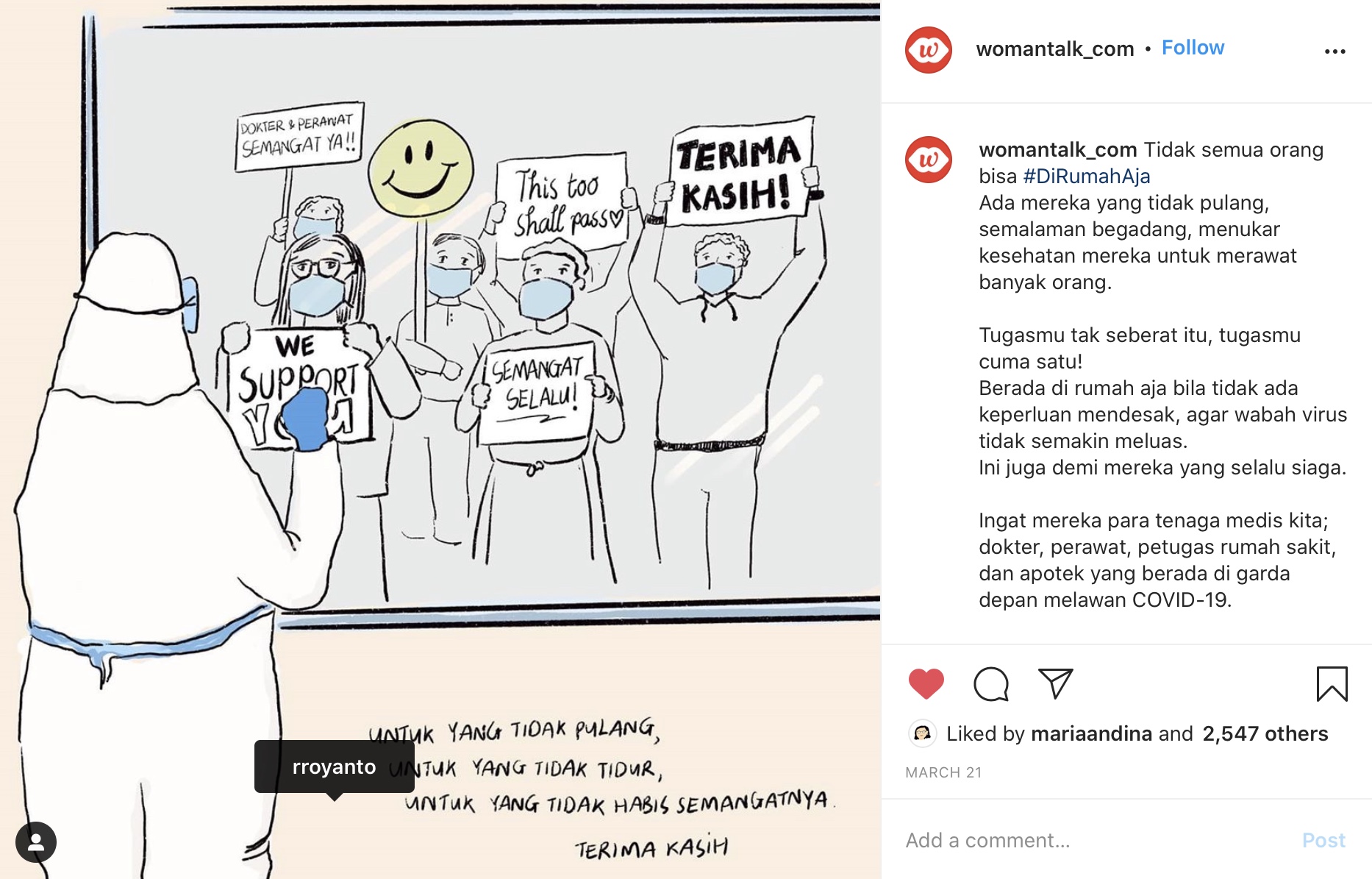 The drawing reads "[T]o those who cannot come home. To those who cannot sleep. To those whose spirits never fade. Thank you." Source: Author
Coping with stress
The Indonesian government started to limit social interactions in the second week of March, opting for large-scale social restrictions. From 10 March, at least 20 regencies followed these restrictions (Jakarta Post, 2020). In Jakarta, the capital city, seat of the government and economic center of Indonesia, business was no longer as usual. Schools went into lockdown, many office people started to work from home, malls closed, and business postponed. As staying home was a requirement, meeting face to face became something special. Neologisms such as "social distancing" became household terms.
The urge to go out and socialize, however, remained high, especially as malls in Jakarta which were closed in late March. People were clearly stressed about isolation. Perceiving that many felt an urge to go out, I created more visuals to persuade them that being home is not a bad thing after all.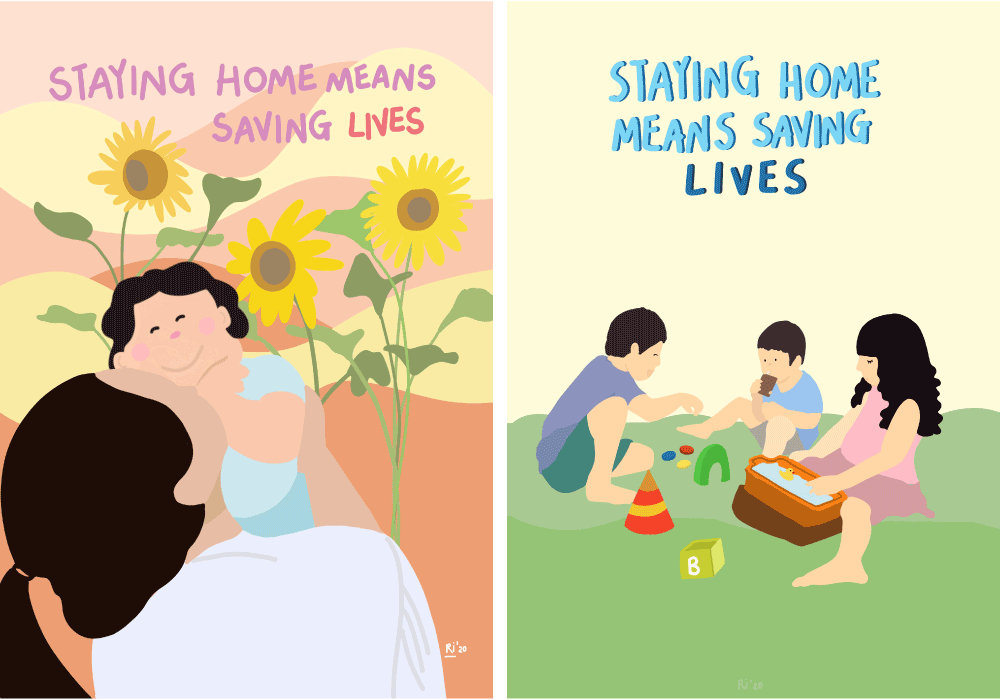 For many families, home became the place where children studied via distance learning and parents worked remotely. Distance learning was not supported by adequate facilities (Detik, 2020), compelling parents to help their children while working (Detik, 2020). The unexpected situation took a toll on them.
One afternoon in a group chat, friends who are parents joked about their "new life," juggling between distance learning, house chores and work. Listening to their frustrations made me realize that parents needed a lot of extra support.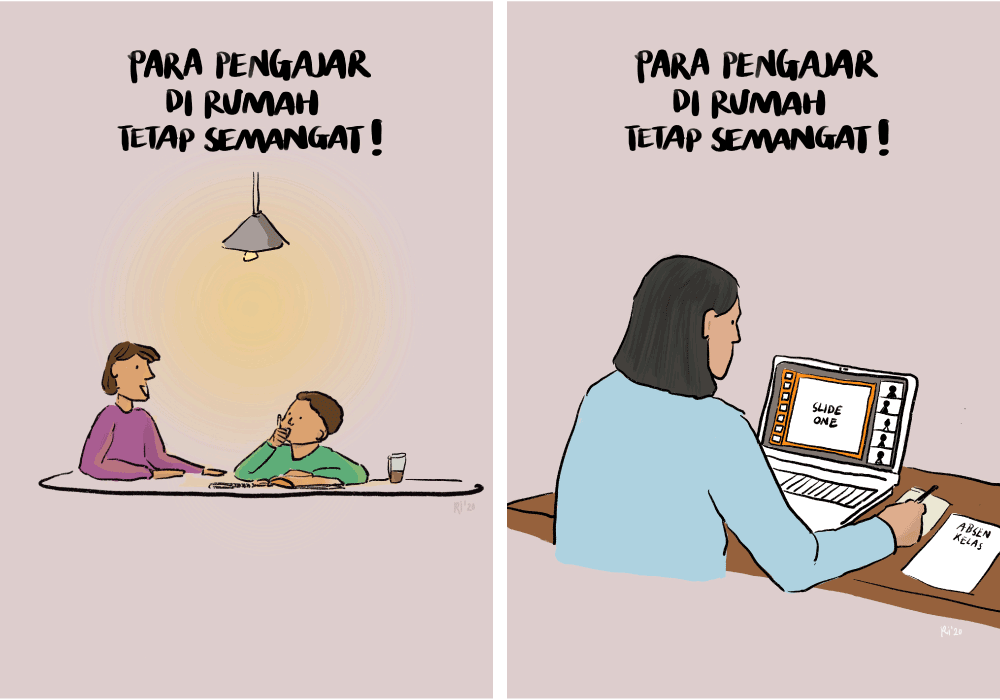 Drawings read "[T]o the teachers at home, keep up the spirit!". Source: Author
The best reaction to these drawings was "I NEED THIS!" expressed both in a chat group and through social media comments.
During the pandemic, the government's guidelines impacted all businesses except eight sectors: health, foods and beverages, energy, communications, monetary and bank, logistics, shops and supermarkets, social organizations and NGOs handling the crisis (Kompas, 2020). People working in these sectors as well as those whose daily income depends on their ability to go out had to accept the risks. I decided to dedicate these drawings to all those who cannot stay at home.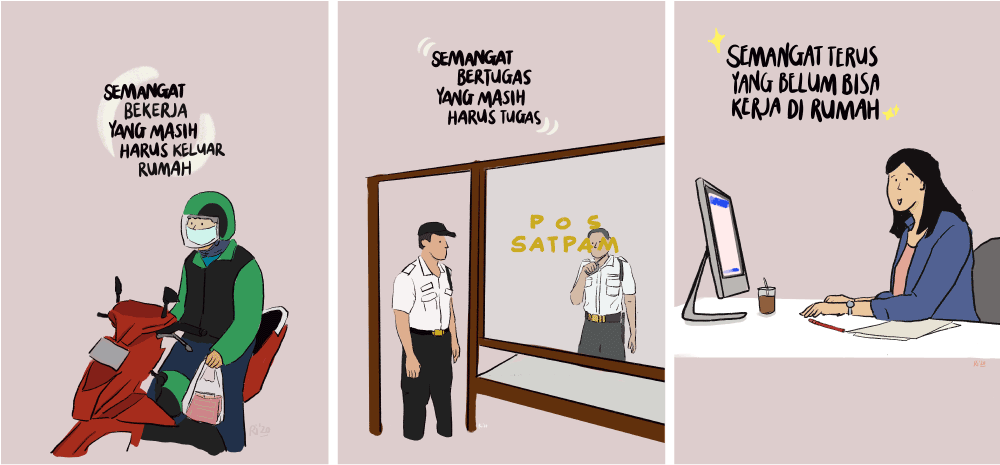 1. Keep up the spirit, to those who still have to leave the house. 2. Keep up the spirit, to those who have to work. 3. Keep up the spirit, to those who cannot work at home. Source: Author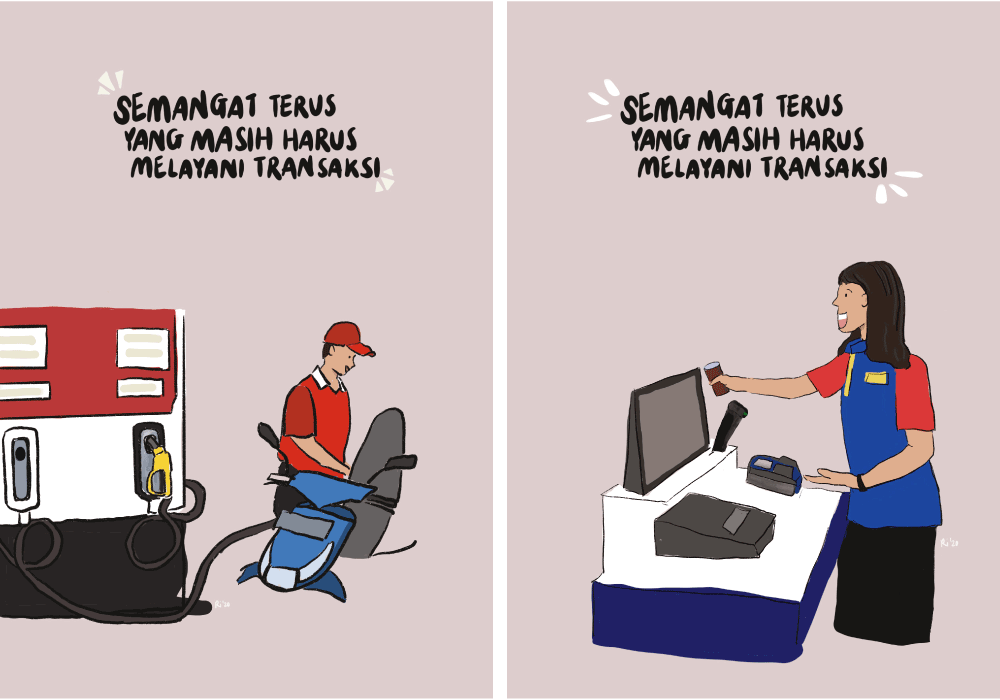 Caption reads "[K]eep up the spirit, to those who are still serving others". Source: Author
Open donations for COVID-19
In the first few weeks of the pandemic, many people tried to do good via social media. They organized campaigns to buy meals for online drivers, hand out substantial tips or basic food (sembako) during their transactions, as well as gather food, money and health supplies via crowdfunding platforms. After seeing several other illustrators promote charities, I decided to collect donations via Instagram to buy hazmat suits for health workers through a reputable health organization.
For this initiative, I planned to drew 10 portraits, but eventually ended up with 25 people participating and my work grew to 30. Enthusiasm exceeded my expectations and many more people than I expected contributed. This made me realize that there was a very strong willingness to support each other during this difficult period.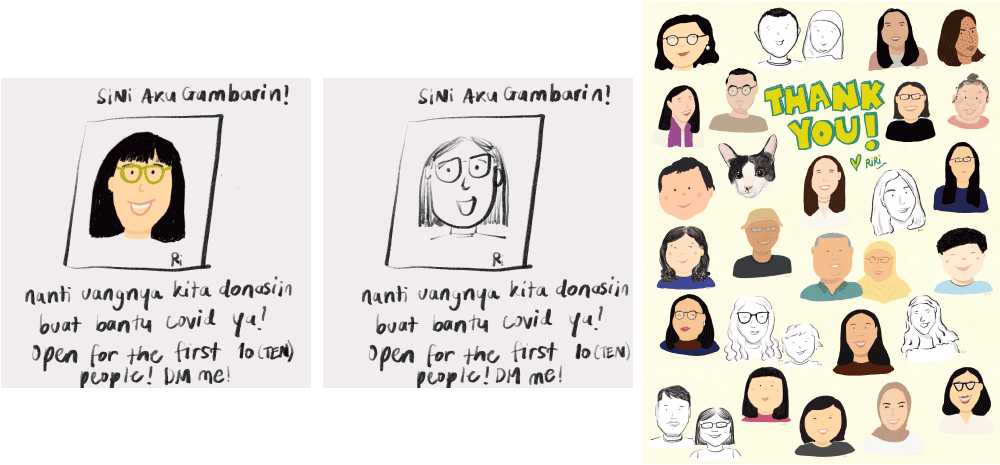 Drawings reads "Let me draw you! I will donate the money for Covid! Open for the first 10 people! DM me". Source: Author
Through posting my drawings, I have realized that an increase in the use of social media can be beneficial for socializing and sharing information during this pandemic. It can also spark positive action, from giving encouragement to organizing charities. Supporting each other in these difficult times is crucial and I aim to keep on doing so through my drawings.
25 June, 2020
BIO:
Ignatia Dyahapsari is an independent researcher and graphic recorder. She has a background in anthropology and currently works mostly for social research. She likes to draw based on her everyday observations. Her interests are related to identity, gender, and visual representation.
Citation
Ignatia Dyahapsari. 2020. "Creative Social Media Acts in Response to COVID-19" CSEAS NEWSLETTER, 78: TBC.