Spotlight Picture Source: Pixabay.com
Was Hong Kong Well-prepared?
On 31 December, 2019, the World Health Organization (WHO) received a report of an outbreak of 'pneumonia of unknown cause' in Wuhan, the capital city of Hubei Province in China, from the Chinese government. Hong Kong government's response was quick. On the same day, the government's Department of Health informed local hospitals and universities of the reported pneumonia cases in Mainland China (Hung, Walline & Graham 2020, 163). The government urged frontline clinicians to stay vigilant against the outbreak in China as well as patients who had a recent travel history to Wuhan and had developed fever and respiratory symptoms (Hung, Walline & Graham 2020, 163). The government and staff who work in the medical sector were, in general, confident and felt prepared for the advent of the pandemic because of their prior experience with the severe acute respiratory syndrome (SARS) from 2002 to 2004.
Yet, the impact of COVID-19 on Hong Kong society has been sweeping and destructive. Economically, the pandemic has cast a dark shadow on Hong Kong's current economy, slackened future economic growth, caused the unemployment rate to increase, and severely damaged several local 'pillar industries' such as tourism, hotel, catering, and retail sales. Under the current circumstances of ongoing civil unrest which have continued since late March 2019, the viral outbreak has had a severe impact on the city's once-thriving economy and resulted in the first fiscal deficit in fifteen years. This impact is even more complicated when we factor in the political aspect. While the credibility and reputation of the Hong Kong government has plummeted to its lowest level in history over the past year due to the vast protests and social movements, the government has become the one to be both attacked and be counted upon amid an outbreak. Concurrently, it still plays a proactive role in carrying out a border shutdown with Mainland China first and later other countries, encouraging and enforcing social distancing and mask wearing, executing a lockdown policy, and providing employers with funds to prevent further job losses.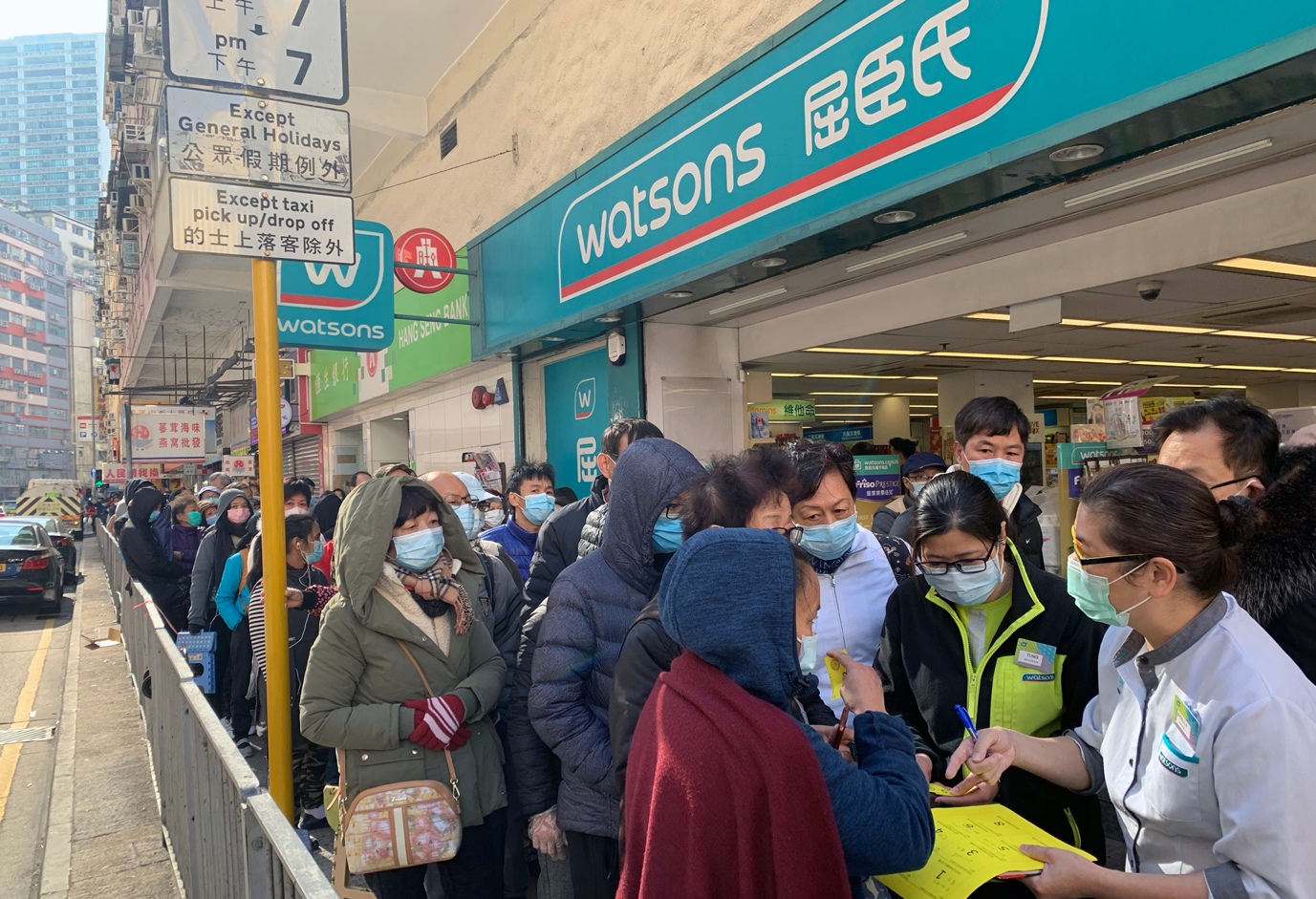 People in Hong Kong waiting in a long queue in front of a local retailing chain store for buying masks. Masks have been in shortage in Hong Kong since the outbreak of coronavirus in Wuhan, China. Photo credit: Lewis Tse Pui Lung, Source: https://www.shutterstock.com/image-photo/hong-kong-30-january-2020-people-1630888825
Continued Economic Downturn and Uncertainty
The pandemic has delivered a double punch to Hong Kong's economy together with the substantial protests of 2019, inflicting heavy losses on local industries and employment opportunities and consequently acerbating the further risk of social turbulence. The negative impact of the coronavirus outbreak on an already shrinking local market and business is much more extensive than the consequences of the social unrest of 2019. While the protests mainly affected tourism-related industries, such as hotel, catering, retailing, travel agencies, transportation, and other entertainment sectors, the pandemic has inflicted damage on almost every sector of society, including the cornerstones of Hong Kong's economy such as financial services, real estate, trading, and logistics. A report by the Hong Kong General Chamber of Commerce has shown that the advance GDP estimate for the first three months of 2020 will  contract by 8.9% compared with the same period last year. This suggests a more acute market shrinkage and economic recession than the situation during the Asian Financial Crisis in 1997 and the Global Financial Crisis of 2007-2008 (Hong Kong General Chamber of Commerce 2020).
The job market has borne the brunt of the depression and the unemployment rate for February – April 2020 spiralled to 5.2%, compared with the rate 4.2% in January – March 2020 (Census and Statistics Department, The Government of Hong Kong 2020). As of April, there are more than 200,000 people who have lost their jobs (Trading Economics 2020). This year's university graduates are also experiencing unparalleled tough times as more than 55% of available jobs have vanished, and the youth unemployment rate in Hong Kong has shot up to 8.1% in April 2020 (Chan 2020; Trading Economics 2020). Such an acute and dire situation of economic recession and job losses is not only a result of the consecutive blasts of protests and pandemic, but also a potential cause for more serious and long-standing financial difficulties, political division, and social unsettlement in the future.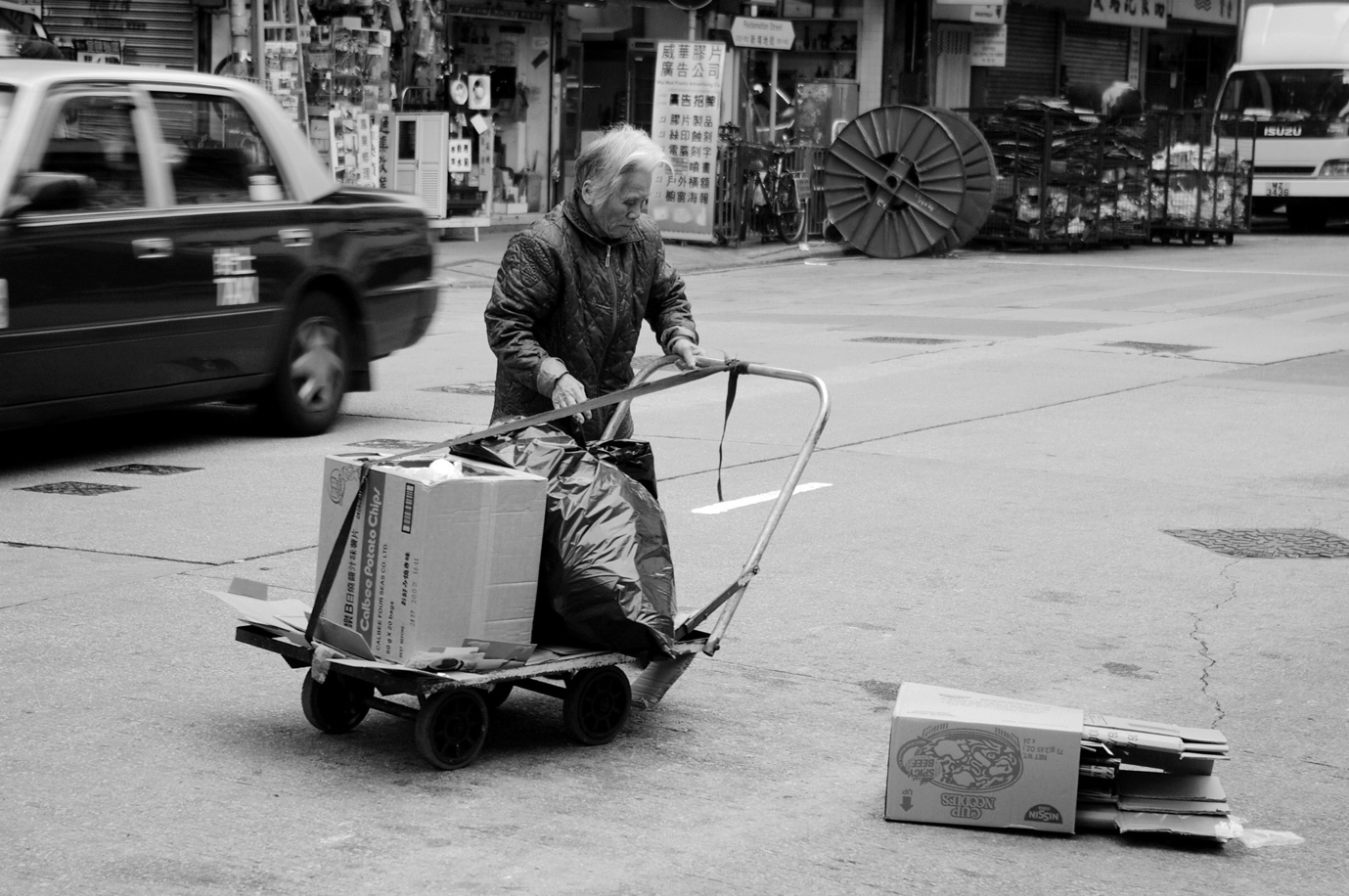 Under the circumstances of COVID-19, many people in Hong Kong have lost their jobs and suffered from pressing financial difficulties and depression. Source: https://www.shutterstock.com/image-photo/hong-kong-dec-21-old-lady-66727117
A Reluctant Yet Decisive Government
The Hong Kong government has generally played a leading role in deterring imported cases and the local spread of COVID-19 so far, though many of its measures were controversial and became the subject of extensive disputes in society. For instance, the government has adopted aggressive policies for contact tracing and mandatory quarantine (Wong, Kwok & Chan 2020, E511). Anyone who enters Hong Kong from Mainland China or other countries and regions has to undergo a fourteen-day quarantine period and stay in the designated accommodations for two weeks for the purpose of infection control. In order to further monitor the quarantine process, the government requires inbound travelers to wear wristbands and install a mobile application called "StayHomeSafe" for tracking and keeping records of returnees.
However, the government has been slow in its response to the coronavirus outbreak in China and to the appeal of people from Hong Kong who stranded in Wuhan and wanted to return to the territory. While many countries had either suspended the issuing of tourist visas to Chinese visitors or banned the entry of Chinese tourists such as some major tourist destinations like Japan, South Korea, the United States, the United Kingdom and some countries in Southeast Asia like the Philippines, Singapore, and Vietnam in February, the Hong Kong government was reluctant to shut down the checkpoints on its land border with Mainland China completely. Carrie Lam Cheng Yuet-ngor, the current Chief Executive of the Hong Kong Special Administrative Region (HKSAR), announced that the government would only restrain the cross-border flow of people instead of implementing a complete shutdown on the Hong Kong – Mainland China border due to mainly logistical and business concerns, and her irresolution triggered criticism across the local political divide, attacking her for succumbing to the Chinese central government in Beijing (Ting 2020). Nonetheless, as the regional outbreak of COVID-19 in China evolved into a global pandemic, in late March, the government commenced its first two-week border shutdown and later an indefinite extension of border closure in early April (RTHK 2020).
In response to the crisis of the Diamond Princess cruise ship in Japan, in mid-February, the government dispatched several chartered flights to Tokyo to fetch Hong Kong evacuees from the ship. In the meantime, the government also managed to bring back some Hong Kong residents who were stranded in Wuhan, the epicenter of the outbreak, as well as other cities in Hubei Province in early March. The priority was given to those who were in urgent need, such as pregnant women, the elderly, those who suffered from serious illness, and students. However, the government's failure and inability to evacuate its residents from Wuhan at an earlier stage of the outbreak also sparked criticism of its submissive attitude toward Beijing and of its lack of autonomy in reacting to various China-related affairs, resulting in the government's inefficiency and ineptitude in taking care of its citizens overseas.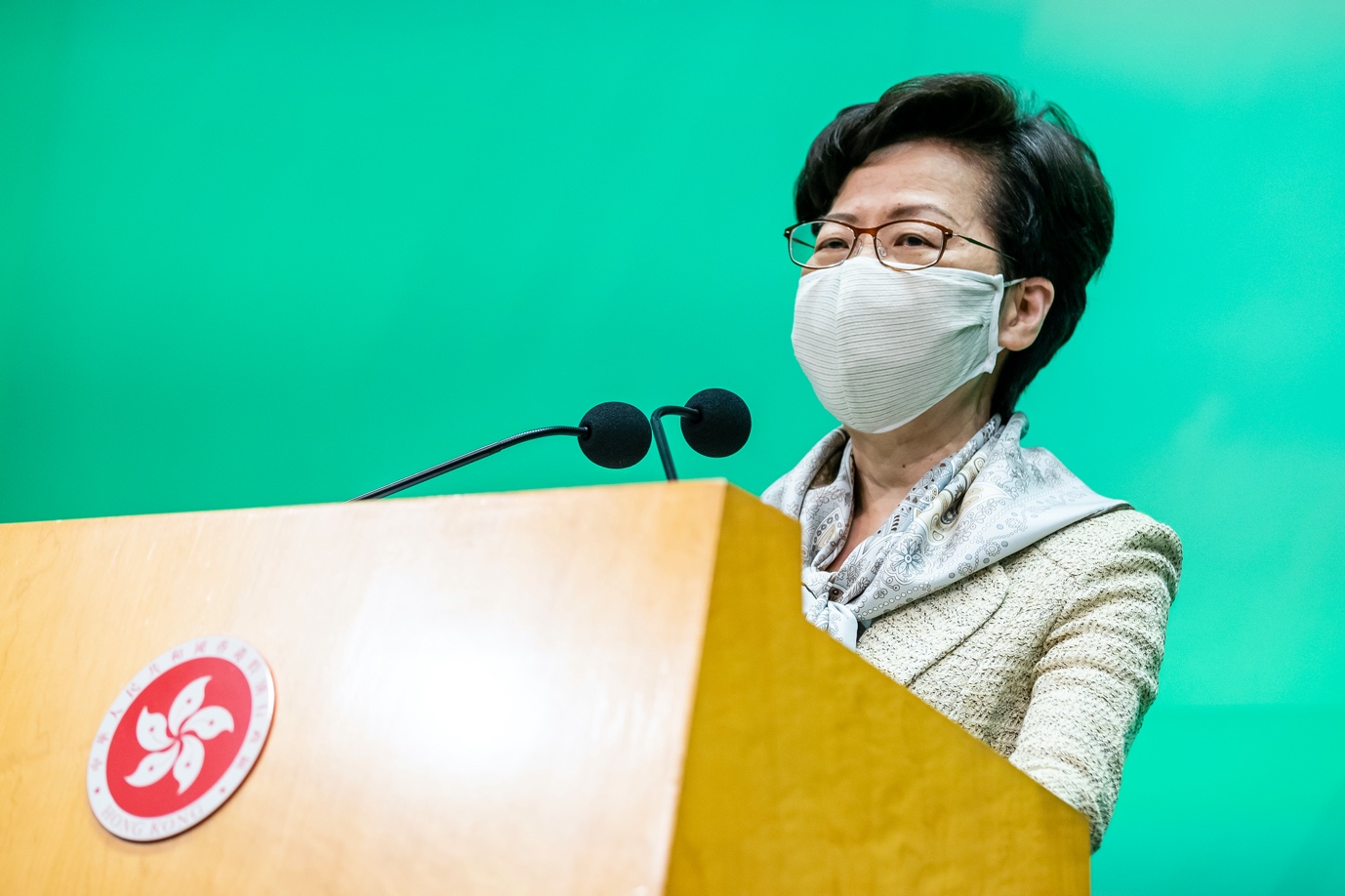 Carrie Lam, the current Chief Executive of HKSAR, delivering a speech while wearing the re-washable mask which was developed by a local research institute, commercialized, and distributed with the help of the government. Photo credit: Yu Chun Christopher Wong, Source: https://www.shutterstock.com/image-photo/hong-kong-19-may-2020-carrie-1735072217
A Delicate Political Status Quo Amidst a Pandemic
The role of the government and people's perceptions of it are among the most perplexing and paradoxical issues amid the influence of this pandemic in Hong Kong. Prior to COVID-19, the city had witnessed one of the most historic downturns in people's trust and confidence in their government. Although the local political and social movements that started since the late March last year due to the government's proposal for the amendments to the extradition law continued taking place in the global wave of COVID-19 infections, the protests have ostensibly subsided because the attention of the mass media and the public both in Hong Kong and around the world is now diverted to the outbreak.
What is more controversial and paradoxical is that the pandemic has granted the government a certain accountability and legitimacy to impose various preventive regulations including social distancing and lockdown and to rightfully prevent protestors from gathering and convening for the sake of public health. In the meantime, the coronavirus has, to some extent, contributed to an increase in local people's reliance on the government because the negative impact of this dire and prolonged disease has extended to almost every corner of society.  As a result, many industries, especially those related to manual work and physical labor, are now suffering severely from market contraction and unemployment. Both employers and employees, and especially those from the bottom or lower class of society now count on the welfare system or special funding provided by the government, such as the Comprehensive Social Security Assistance Scheme (CSSA), Employment Support Scheme (ESS), Anti-epidemic Fund, and so forth. The government also took the initiative to help to commercialize the new technology of re-washable masks developed by the Hong Kong Research Institute of Textiles and Apparel and distributed the newly invented masks to the citizens who have submitted application through online platform (Parry 2020, m1880).
The impact of the outbreak of COVID-19 on the political landscape of Hong Kong is complicated and manifold. It is like a veil that temporarily conceals the already wide-open lacuna between the government and its people. The advent of the virus did not help to recover local people's trust and confidence in their government and politicians, rather it has contributed to situating the government in a just and legitimate position to lead prevention, impose social control and surveillance, and dispel demonstrators. Yet the complex and mostly disastrous socio-economic influence it has exerted across different social strata and various industries has also propelled the very opponents and other citizens across the political divide to continue relying on the government's leadership and initiatives in the fields of social welfare, security, and public health.
For now, the pandemic did not reconcile a divergence but only obscured the wide-spread pain and trauma left by previous upheavals. This is because its unexpected emergence created a vacuum in which no acceptable solutions were proposed to fill in a political chasm and which allowed the National People's Congress (NPC) in Beijing and the government of HKSAR to collaborate and take advantage of this temporary 'settlement' and 'calm-down' period. This has occurred amid extremely protracted political hostility and polarization in Hong Kong society where we have seen the forceful enactment and legislation of the national security law, especially the Hong Kong Basic Law Article 23, which prohibits local 'secessionist and subversive' activities as well as foreign interference and terrorism, rendering many future protests and demonstrations illegal.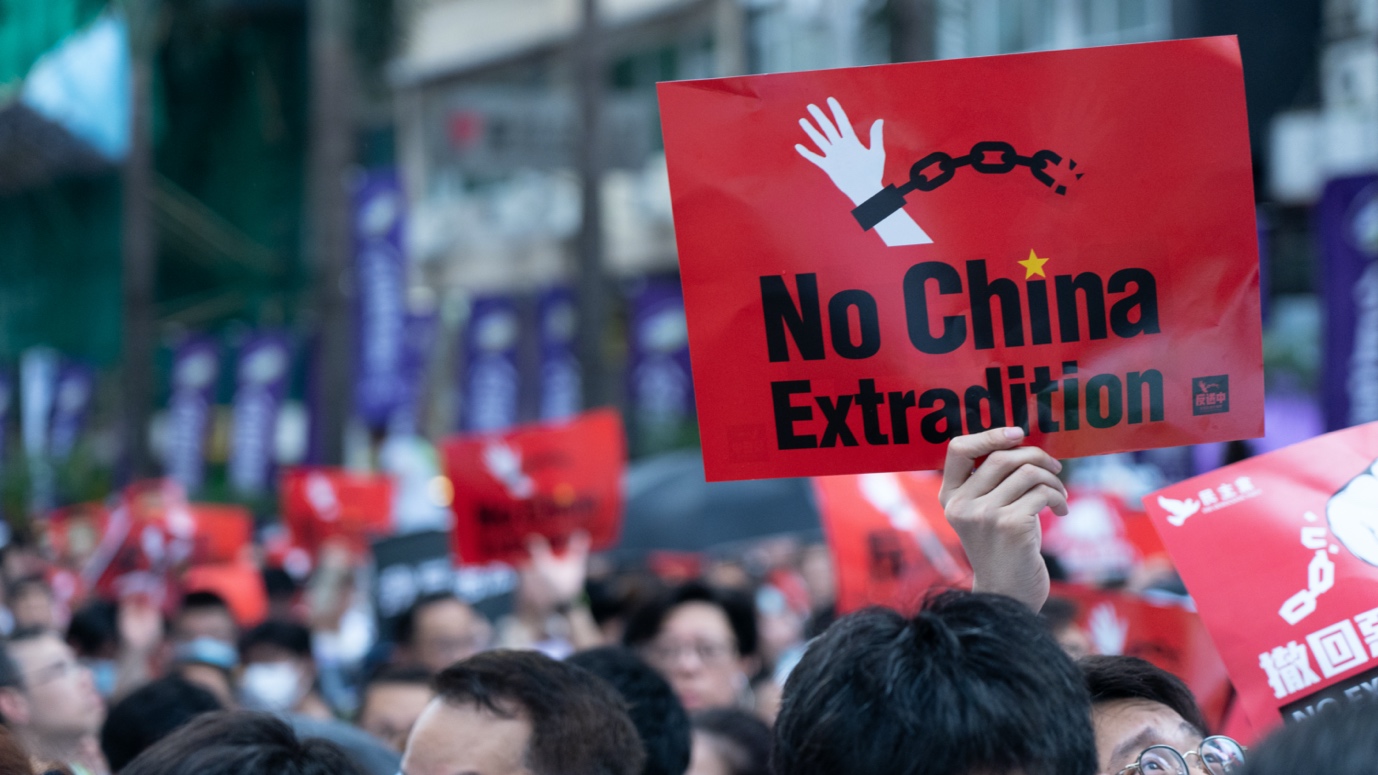 Hong Kong people in demonstration opposing the legislation of the extradition bill, which if passed, will allow the government to detain and transfer fugitives to countries and regions with which no formal extradition agreements are established, including Taiwan and Mainland China. Photo credit: Jimmy Siu, Source: https://www.shutterstock.com/image-photo/hong-kong-9jun2019-1-million-hkers-1419790148
Contextualizing Hong Kong within the US – China Confrontation
From a long-term perspective, the series of political and civil unrest ever since the Umbrella Movement in 2014, which was a strong and firm opposition to the NPC's proposal for reforming the Hong Kong electoral system and for pre-screening the candidates for the Chief Executive of Hong Kong, can be viewed as the result and manifestation of an escalating power struggle between the United States and China in a broader international context. The origin of COVID-19 and the World Health Organization (WHO) have become two main sources of constant altercations and contentions between both countries. The Trump administration has consistently accused China of concealing the facts of coronavirus from the public; of failing to deter the outbreak within its borders; and even of engineering and spreading the virus around the globe. The US president Donald Trump has also held that the WHO has become a 'China's puppet' and ordered a halt in sponsoring it. On the other hand, Beijing has held the US government accountable for the catastrophic consequences of the soaring death tolls and confirmed infected cases in the US resulted from its negligence and impotence.
Meanwhile, Hong Kong has also become one of the arenas where US – China antagonism plays out. On 27 November, 2019, President Trump signed the Hong Kong Human Rights and Democracy Act into law, which requires the US Department of State and other governmental organizations to conduct annual assessment of the political situation in Hong Kong and to review Hong Kong's special trading status. The Act provoked a backlash from the Chinese side, and it has been argued that Beijing's decision and determination to enact the national security law in Hong Kong, in fact, came against the backdrop of the America's escalating interference into Hong Kong affairs.
Conclusion: 'Pacification' Under Pandemic
With the most recent update of three more newly confirmed imported cases of coronavirus infection on June 15, 2020, challenges and uncertainties will loom over this city for months if not years to come. The pandemic has temporarily frozen previous fiery exchanges of anguish and resentment. It has offered 'half-time' to a turbulent society and allowed local politicians and their opponents to sweep their almost irreconcilable positions under the carpet. The entire city and a whole generation have been politically divided to an extreme, and it seems that this schism will not be bridged in the future. The city is, bizarrely, 'pacified' and 're-unified' for the time being with the advent of the pandemic and the government's appeal for 'fighting the virus' and a series of its preventive measures.
Hong Kong's experience of COVID-19 provides us with an unprecedented opportunity to ponder on how this public health crisis is redefining our understanding of 'governance,' 'governmentality,' and 'post-colonialism.' With its unprecedented and ambivalent 'one country, two systems,' Hong Kong is a litmus test for juxtaposing different governing styles and testing the compatibility between the 'capitalism' and 'communism' professed by the state. Hong Kong, with its rich colonial history, exists as a liminal space where both claim co-existence. From a global perspective, it communicates through and with two diametrically opposed political and ideological systems. At a national scale, it serves as an exceptional intermediary on China's administrative spectrum ranging from provinces, autonomous regions to the currently independent Taiwan. Domestically, its government supposedly enjoys the prerogative of benefitting from all three groups of Mainland China, locals, and those overseas. Yet, its go-between role is also a double-edged sword that can easily leave the city in a fragile and precarious state. Compared with other cosmopolises, Hong Kong is now stuck in a limbo with limited and polarized choices instead of a wider range of possibilities. Within the national framework, accumulated distrust and misunderstandings have driven a wedge between this city and mainland China. At the local level, there is a seemingly unbridgeable chasm between the government and its people, and the citizens are divided by irreconcilable political stances, which are most conspicuously epitomized by the 'yellow (pro-democracy) versus blue (pro-government) antagonism' and the 'yellow economic circle.'
The advent of COVID-19 both discloses and conceals the peculiarity, ambivalence, and discordance underneath the city's bustling façade. It deflects the attention of the international community away from Hong Kong affairs while inflaming the US – China confrontation. It also reflects both the government's inability and competence and both its disinclination and resolution in respect to its relations with Mainland China. And it is exacerbating the economic recession as well as socio-political frustration in Hong Kong whilst propelling more residents to count on the government in the meantime. This global viral outbreak has shaped power dynamics not only between the government and people at a local level, but also between different countries. With rising concerns about the augmentation of government surveillance and the infringement of people's privacy both in Hong Kong and around the globe, the pandemic has also disclosed how the 'personal' is highly 'political.' Hong Kong's experience with COVID-19 has demonstrated how the local political landscape can be both vulnerable and decisive amid the overwhelming discursive power of the national apparatus and international politics. 
17 June, 2020
References
BBC News. 2020. Coronavirus: Trump accuses WHO of being a 'puppet of China.' BBC News. 19 May. https://www.bbc.com/news/health-52679329. (Accessed 11 June, 2020).
———. 2020. Coronavirus: Trump stands by China lab origin theory for virus. BBC News. 1 May. https://www.bbc.com/news/world-us-canada-52496098. (Accessed 10 June, 2020).
———. 2019. The Hong Kong protests explained in 100 and 500 words. BBC News. 28 November. https://www.bbc.com/news/world-asia-china-49317695. (Accessed 11 June, 2020).
Census and Statistics Department, The Government of Hong Kong. 2020. Unemployment and underemployment statistics for February – April 2020.  https://www.censtatd.gov.hk/press_release/pressReleaseDetail.jsp?charsetID=1&pressRID=4641. (Accessed 9 June, 2020).
Center for Systems Science and Engineering, Johns Hopkins University. 2020. Mapping COVID-19. https://systems.jhu.edu/research/public-health/ncov/. (Accessed 7 June, 2020).
Chan, Alexandra. 2019. 'Buy Yellow, Eat Yellow': The Economic Arm of Hong Kong's Pro-Democracy Protests. The Diplomat. 13 December. https://thediplomat.com/2019/12/buy-yellow-eat-yellow-the-economic-arm-of-hong-kongs-pro-democracy-protests/. (Accessed 16 June, 2020).
Chan, Ho-him. 2020. Tough ride ahead for Hong Kong graduates, as job vacancies fall 55 per cent amid economy battered by protests, pandemic. South China Morning Post. 18 May.  https://www.scmp.com/news/hong-kong/education/article/3084768/tough-ride-ahead-hong-kong-graduates-job-vacancies-fall-55. (Accessed 9 June, 2020).
Cheung, Gary. 2020. Two Sessions 2020: Beijing 'out of patience' after long wait for Hong Kong national security law, plans to proscribe secession, foreign interference and terrorism in city. South China Morning Post. 21 May. https://www.scmp.com/news/hong-kong/politics/article/3085412/two-sessions-2020-how-far-will-beijing-go-push-article-23. (Accessed 10 June, 2020).
Dearden, Lizzie. 2014. Hong Kong protests: A guide to yellow ribbons, blue ribbons and all the other colours. The Independent. 5 October. https://www.independent.co.uk/news/world/asia/hong-kong-protests-a-guide-to-yellow-ribbons-blue-ribbons-and-all-the-other-colours-9775324.html. (Accessed 16 June, 2020).
Delaney, Robert & Owen Churchill. 2019. Donald Trump signs Hong Kong Human Rights and Democracy Act into law, brushing off China's warnings. South China Morning Post. 28 November. https://www.scmp.com/news/china/diplomacy/article/3039673/donald-trump-signs-hong-kong-human-rights-and-democracy-act. (Accessed 11 June, 2020).
Frayer, Janis Mackey & Adela Suliman. 2020. Senior Chinese official challenges Trump over coronavirus response, says U.S. wasted weeks. NBC News. 29 April.  https://www.nbcnews.com/news/world/senior-chinese-official-challenges-trump-over-coronavirus-response-says-u-n1194371. (Accessed 10 June, 2020).
Hong Kong Business. 2020. Hong Kong runs fiscal deficit for first time in 15 years. Hong Kong Business. 26 February. https://hongkongbusiness.hk/economy/news/hong-kong-runs-fiscal-deficit-first-time-in-15-years. (Accessed 8 June, 2020).
Hong Kong General Chamber of Commerce. 2020. Hong Kong Economy Shrinks at Record Rate. https://www.chamber.org.hk/en/information/economic_update_details.aspx?ID=79. (Accessed 9 June, 2020).
Hung, K.K.C., Walline, J.H. & Graham, C.A., 2020. COVID-19: emergency medicine perspectives from Hong Kong. European Journal of Emergency Medicine, 27(3), pp.163–164.
Kaiman, Jonathan. 2014. Hong Kong's umbrella revolution – the Guardian briefing. The Guardian. 30 September. https://www.theguardian.com/world/2014/sep/30/-sp-hong-kong-umbrella-revolution-pro-democracy-protests. (Accessed 11 June, 2020).
Kwok, Donny & Greg Torode. 2020. Hong Kong to evacuate stranded residents from China's Hubei. Reuters. 3 March. https://www.reuters.com/article/us-health-coronavirus-hongkong-carrie-la/hong-kong-to-evacuate-stranded-residents-from-chinas-hubei-idUSKBN20Q069.  (Accessed 9 June, 2020).
Lacina, Linda. 2020. WHO officials respond to US funding halt: 'We regret the decision'. World Economic Forum. 15 April. https://www.weforum.org/agenda/2020/04/04152020-who-briefing/. (Accessed 10 June, 2020).
Library of the United States Congress. 2019. Hong Kong Human Rights and Democracy Act of 2019. https://www.congress.gov/bill/116th-congress/house-bill/3289/text. (Accessed 10 June, 2020).
Parry, Jane. 2020. Covid-19: Hong Kong government supplies reusable face masks to all residents. BMJ, 369, p.m1880.
Radio Television Hong Kong (RTHK). 2020. Border shutdown extended indefinitely. https://news.rthk.hk/rthk/en/component/k2/1519213-20200406.htm. (Accessed 9 June, 2020).
———. 2020. Hong Kong starts two-week border shutdown.  https://news.rthk.hk/rthk/en/component/k2/1516673-20200325.htm. (Accessed 9 June, 2020).
Ramzy, Austin, Elaine Yu & Tiffany May. 2020. Hong Kong says it will begin evacuating residents from Wuhan. The New York Times. 24 February. https://www.nytimes.com/2020/02/24/world/asia/hong-kong-wuhan-evacuate-coronavirus.html. (Accessed 9 June, 2020).
Reuters. 2019. Timeline: Key dates in Hong Kong's anti-government protests. Reuters. 11 November. https://www.reuters.com/article/us-hongkong-protests-timeline/timeline-key-dates-in-hong-kongs-anti-government-protests-idUSKBN1XL0N3. (Accessed 9 June, 2020).
Security Bureau, The Government of Hong Kong. 2002. Proposals to implement Article 23 of the Basic Law consultation document.  https://www.basiclaw23.gov.hk/english/download/reporte.pdf. (Accessed 9 June, 2020).
The Government of Hong Kong. 2020. Employment Support Scheme.  https://www.ess.gov.hk/en/. (Accessed 8 June, 2020).
———. 2020. First batch of Hong Kong residents on board Diamond Princess cruise ship return to Hong Kong smoothly.  https://www.info.gov.hk/gia/general/202002/20/P2020022000537.htm. (Accessed 9 June, 2020).
———. 2020. HKSAR Government sends two flights to bring back Hong Kong residents stranded in Hubei Province to Hong Kong.  https://www.info.gov.hk/gia/general/202003/04/P2020030400814.htm. (Accessed 9 June, 2020).
———. 2020. Inbound Travel: Points to Note for Quarantine for Inbound Travellers. https://www.coronavirus.gov.hk/eng/inbound-travel.html. (Accessed 10 June, 2020).
———. 2020. "StayHomeSafe" Mobile App User Guide.  https://www.coronavirus.gov.hk/eng/stay-home-safe.html. (Accessed 10 June, 2020).
———. 2020. The Centre for Health Protection (CHP) investigates three additional confirmed cases of COVID-19. https://www.info.gov.hk/gia/general/202006/15/P2020061500587.htm. (Accessed 16 June, 2020).
———. 2020. What is CuMask+TM?  https://www.qmask.gov.hk/about. (Accessed 9 June, 2020).
The Public Opinion Programme, The University of Hong Kong. 2019. People's Trust in the HKSAR Government (12/1992 – 6/2019). https://www.hkupop.hku.hk/english/popexpress/trust/trusthkgov/poll/trusthkgov_poll_chart.html. (Accessed 8 June, 2020).
Ting, Victor. 2020. Coronavirus: why won't Carrie Lam shut Hong Kong's border with mainland China? South China Morning Post. 5 February. https://www.scmp.com/news/hong-kong/politics/article/3049111/coronavirus-why-wont-carrie-lam-shut-hong-kongs-border. (Accessed 8 June, 2020).
Trading Economics. 2020. Hong Kong Unemployed Persons.  https://tradingeconomics.com/hong-kong/unemployed-persons. (Accessed 9 June, 2020).
———. 2020. Hong Kong Youth Unemployment Rate.  https://tradingeconomics.com/hong-kong/youth-unemployment-rate. (Accessed 9 June, 2020).
Wong, S., Kwok, K. & Chan, F., 2020. What can countries learn from Hong Kong's response to the COVID-19 pandemic? Canadian Medical Association Journal, 192(19), pp.E511–E515.
World Health Organization. 2003. Severe acute respiratory syndrome (SARS): Status of the outbreak and lessons for the immediate future. https://www.who.int/csr/media/sars_wha.pdf. (Accessed 12 June, 2020).
BIO:
Eric Senkit Suen is currently an undergraduate student at The University of Hong Kong. He majors in Japanese Studies and China Studies. He studied at Kyoto University from 2019 to 2020 as an exchange student, and he stayed at The University of Tokyo and Peking University during the summer of 2018.
Citation
Eric Senkit Suen. 2020. "COVID-19 in Hong Kong as a Double Punch with Civil Unrest: Governance, Ambivalence, and Recession" CSEAS NEWSLETTER, 78: TBC.