As the COVID-19 pandemic situation continues to deteriorate and profoundly challenge life across the world, the people of Bhutan have managed to keep the pandemic situation under control. The precautionary approach the government has taken in response to the global pandemic has, to date, been effective. After more than 80 days from detection of the first positive case, the country has managed to prevent community transmission and continues to remain in an Orange zone. As per the National Preparedness and Response Plan, with the detection of first confirmed case of COVID-19, the country stepped into an "Orange" zone which is classified as "moderate disruption." The zone is defined as having one or more isolated confirmed cases without secondary transmission (MoH, 2020). There are, as of writing, 43 positive cases, 6 recoveries and no deaths. There has been so far not one single local case. Bhutan's positive cases have so far come from outside the country. With the government encouraging and facilitating the Bhutanese to come home from abroad, the chances of positive cases rising is ever-present. Bhutan continues to charter relief flights to bring in Bhutanese from aboard and to bring essential goods and medical supplies.
Bhutan's response to COVID-19 has been swift and unified and under an effective evidence-based command system. Through a Royal Command, the government implemented numerous measures to strengthen the health care system by expanding public health education; implementing strict quarantine and surveillance; improving facilities for the care of patients; recruiting retired health professionals, mapping health workers outside the health system and studying outside; and expanding COVID-19 testing facilities amongst others. Based on scientific evidence, the government increased the mandatory quarantine period from 14 to 21 days. With thousands of people completing the quarantine, the government recently enforced a 7pm curfew as a precaution (Younten, 2020). What is effective with Bhutan's approach is that the country has focused on implementing a strong and free quarantine system.
Bhutan has never been locked down but did seal its borders on 22 March 2020, on the orders of the King. During the closure announcement, His Majesty said, "At such a time, the health and safety of the people of Bhutan is of the greatest priority, and as such, we are putting in place every measure necessary to safeguard the people of Bhutan" (Ministry of Foreign Affairs, 2020). Bhutan shares a porous border with India to the south, southwest and east (659 Kilometers) and China in the north and northwest (477 Kilometers). While people to people contact is negligible on the Bhutan-China borders, the biggest challenge and possible community transmission can happen along the Bhutan-India border, where people to people contact is frequent. Bhutan shares immediate borders with Assam, which has 1185 positive cases and with West Bengal, which has 5130 positive cases. As of writing India had more than 191, 000 positive cases.
For a country that relies heavily on imports, particularly food and fuel from India, as well as tourism, this closure of borders has effectively amounted to cutting off an economic lifeline. (Ongmo and Parikh, 2020)
Many people have lost their incomes and other sources of livelihood, either partially or completely, due to a decline in business or closures. Those who are employed in the tourist sector and allied services have been the hardest hit. Furthermore, preventive measures taken by the government to avert the outbreak of the pandemic are now also affecting people working in other sectors.
In light of exceptional circumstances and the need for unconventional strategies to build economic resilience & boost growth, His Majesty announced the release of Nu. 30 billion fund (US $397 Million) to establish a National Resilience Fund. "The fund is equivalent to 20% of 2018 GDP and is comparable to that of any developed country and more substantial than those of many countries in our development cohort" (Wangchuk, 2020). This fund has a number of different components and will support the implementation of the following activities below.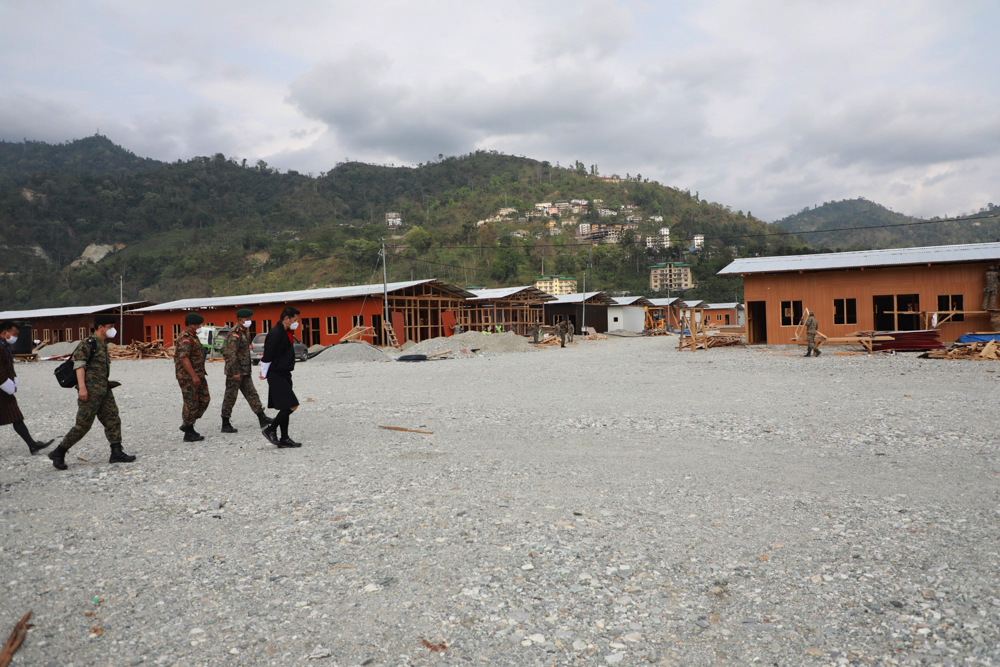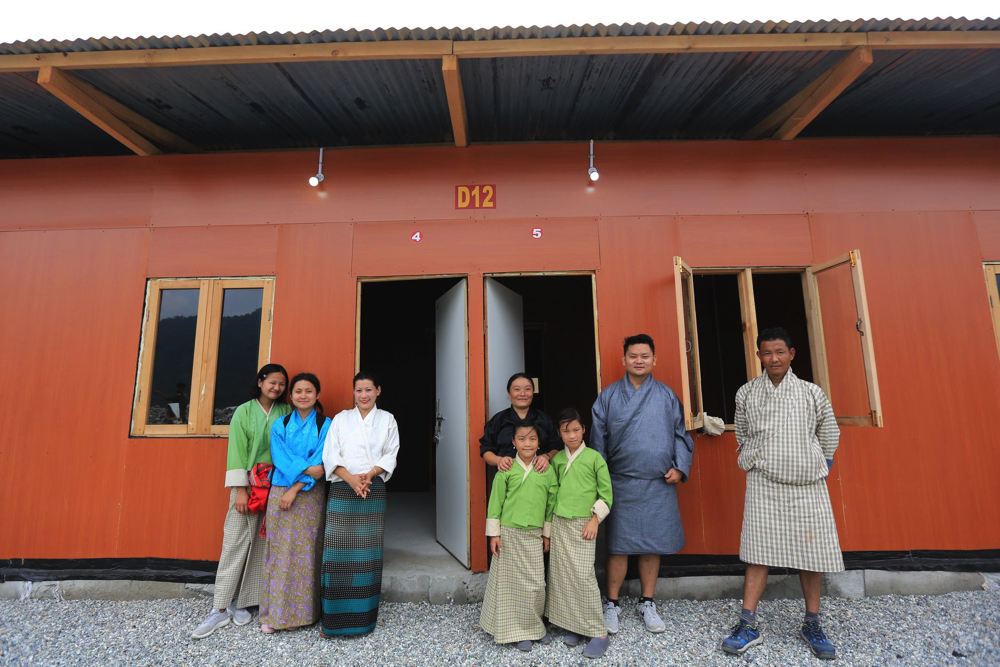 His Majesty built shelters (temporary house) for 5000 Bhutanese evacuated from Jaigoan, India due to COVID-19. 1,300 Royal Bhutan Army personnel together with 180 volunteers from Technical Training Institutes completed the houses by the end of April 2020. (Picture source: Facebook)
Druk Gyalpo's Relief Kidu
The Druk Gyalpo's Relief Kidu will provide immediate relief to distressed individuals. Besides covering the cost of living expenses and sustaining demand for goods and services, the Relief Kidu aims to boost morale and provide assurance of hope to Bhutanese who are directly affected by the pandemic.
Nu 150 million (US $2 million) has been granted in the first disbursement benefitting 13,006 people. Recipients of the full kidu, those whose livelihoods were directly impacted, received Nu 12,000 (US $160) per month for three months. Those that saw a reduction in their income from the pandemic will receive Nu 8,000 ($US 105) per month for three months. Those affected with children will also receive an additional Nu 800(US $11) per children for three months (Kuensel, 2020). At present, more than 20,000 people from across the country had applied for the kidu. This is the first batch screened from 18,880 people. The kidu will continue and more people will receive the kidu.
Apart from His Majesty's kidu, it is heart-warming to see the entire nation come together to support each other. Small-time farmers, the rich and philanthropists, in fact everyone, is coming forward to help the country deal with the consequences of this pandemic. Farmers are donating farm products. Salaried people are contributing by volunteering in emergency works and donating a portion of their salary. Teachers, civil servants, students and youths have come forward in thousands to undergo DeSuung training, a program where people volunteer as healthcare and security personal at the borders. Banks have come together to defer the repayment of loans for three months. Landlords are waiving tenant's rent. All Members of Parliament from both the houses have donated their one month's salary to COVID-19 response.
Bhutan's development partners have also come forward and are intervening with support at a crucial time. The World Bank granted an interest-free loan of US $40 million to help the country improve its fiscal policies and boost employment opportunities. This is beside the separate US $5 million that the Bank approved to support the COVID-19 response. The European Union also announced that they earmarked EU €12 million to support our efforts in tackling the pandemic and mitigating the socioeconomic impact (Kuensel, 2020). WHO, UN Agencies, other International agencies and NGOs based in Bhutan have also been helping us fight the pandemic through financial assistance and others including ICT Equipment Support, the procurement of Personal Protective Equipment (PPE) and inclusive COVID-19 risk communications and advocacy. Recently, the government of Japan also provided US $450,000 to support Bhutan's COVID-19 response through UNICEF.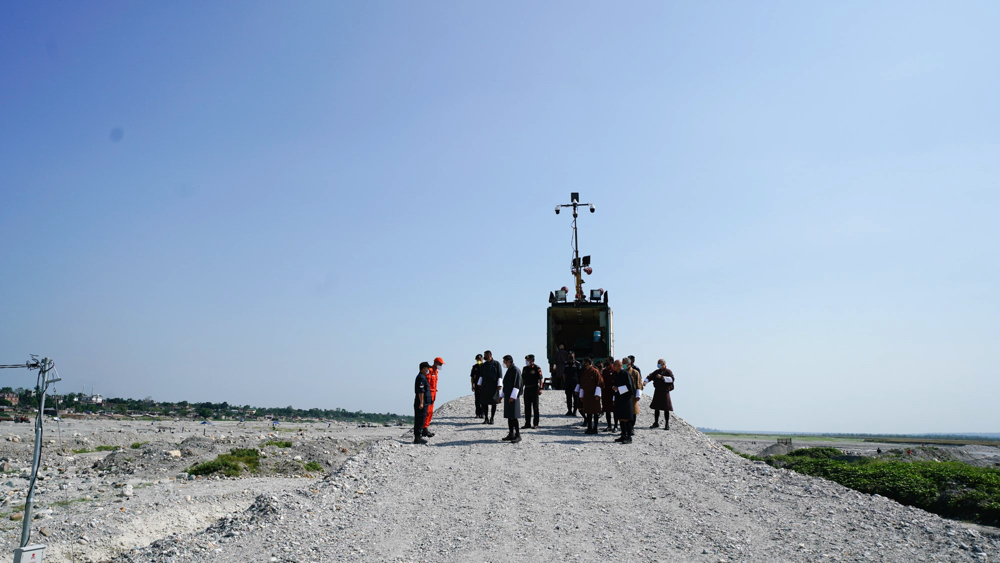 His Majesty The King accompanied by the Prime Minister to inspect measures against COVID-19 in border areas. (Picture source: Facebook)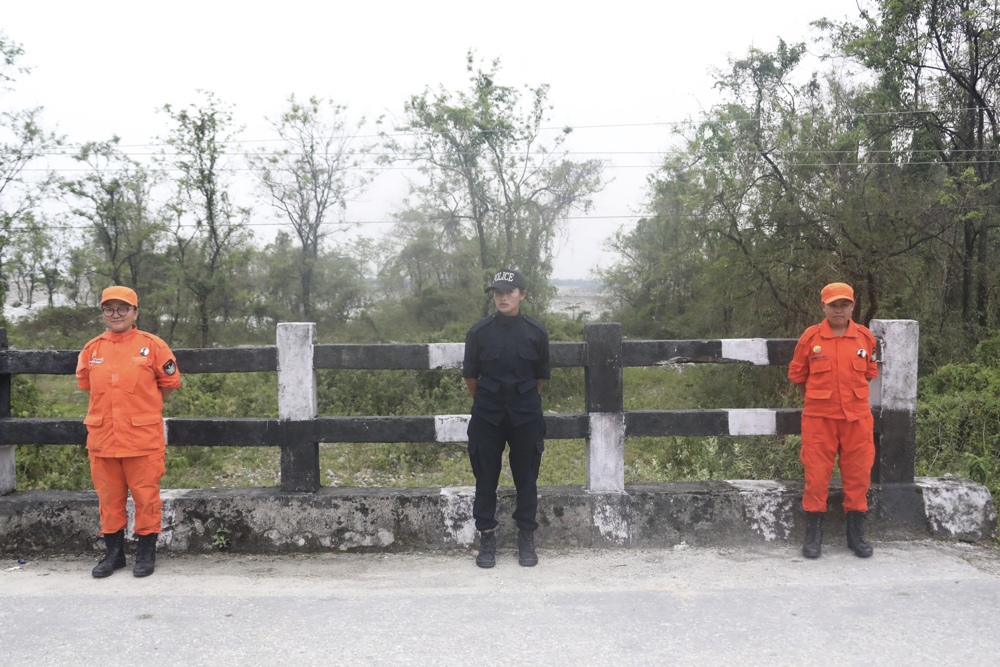 DeSuups & Police patrolling the borders (Picture Source: Facebook)
Interest Payment Relief
Additionally, His Majesty the King commended the initiative of the Royal Monetary Authority and the Financial Institutions to provide significant relief to borrowers facing difficulties in fulfilling their loan repayment obligations due to the current economic downturn.
The relief includes the deferment of loan repayments up to three months and a waiver on interest payments for loans from April to June 2020. The government will finance 50 percent of the total interest payment and the financial institutions offered to support the other 50 percent as a firm and substantial demonstration of their solidarity with the people and the nation during these testing times.
Fast Tracking the Implementation of the 12th Five Year Plan
In order to overcome the present economic disruptions and with a view to stabilize the economy and stimulate growth, the government is formulating plans to fast track the implementation of the 12th Five Year Plan activities and wherever possible frontload investments. Particular emphasis is being placed on revitalizing the rural economy and creating employment opportunities amongst others. The focus sectors also include tourism, agriculture and infrastructure.
Many Bhutanese see the pandemic as an opportunity to boost agriculture and wean the country off expensive imports from India, after decades of unsuccessful attempts to promote self-sufficiency. On 22 March, two days before the ban on food imports, the Agriculture Minister wrote to the heads of all 20 districts of the country, asking them to coordinate with agricultural and livestock officials to support farmers to increase food production, a small but a significant step. The Agricultural Minister, Yeshey Penjor, has urged farmers to "produce as much as possible without worrying about the market" (Yonten, 2020). Agriculture as an integral part of Bhutanese culture, employs 65% of the population and makes up 20% of the country's GDP.
The pandemic has also accelerated the adoption of digital solutions in remote working and online education. Many offices across the country have initiated working from home. To meaningfully engage students amid the growing fear of COVID-19, the Ministry of Education (MoE) launched 'Bhutan e-Learning.' Some 190,000 students from class PP to 12 take lessons through television and other online platforms. Similarly, the Royal University of Bhutan has closed all Colleges and started online classes through virtual learning environments (VLE) and other online tool. To ensure their engagement provides all students with a monthly stipend of Nu 2,500 (US $33) for data recharges and rolling out mobile data top-ups for self-funding students.
There is a visible number of individuals who are increasingly using their mobile banking apps for money transfer and other day-to-day transactions. There are also reports that more Bhutanese in urban areas have signed up for online services (Wangchuk, 2020). The pandemic has taught us that with the right technology and tools, working remotely is possible and practical. Our ways of working are now changing and we will begin to see increased investments in digital solutions across different sectors over the next few years.
Without a definite medical solution and the rapid spread of the virus around the world, we expect that the social and economic impact will worsen over the next six months. However, the Bhutanese government has ensured an uninterrupted supply of essential commodities and food stocks and other essential items to last for more than six months.
His Majesty continues to extensively travel across the country on a regular basis to inspect and ensure the highest level of preparedness and measures against COVID-19. His Majesty has continuously been at the forefront in preparing and responding relentlessly to the fight against this pandemic and ease its impact in Bhutan, not only that which we face now, but equally ensuring that the country is ready to anticipate and prepare after COVID-19.
With time, the virus will face its death. Yet one thing is certain, Bhutan and the world will not be the same as we explore more ambitious and long-term initiatives to build a robust economy and a resilient society not only to fight COVID-19, but also future uncertainties.
A Note on Bhutan
Bhutan is a small landlocked country located in between India and China with a population of 750,000 people. It is a popular tourist destination and has been chosen as the number one country to visit in 2020 out of 195 countries. The Lonely Planet has ranked Bhutan as the best country to visit based on its rich culture and tradition with its pristine sustainable environment while embracing global development. Bhutan is also popularly known across the world for its development philosophy of Gross National Happiness.
1 June, 2020
BIO:
Tshering Wangdi is President of Sherubtse College and Yonphula Centenary College, Royal University of Bhutan.
Citation
Tshering Wangdi. 2020. "Bhutan's response to COVID-19" CSEAS NEWSLETTER, 78: TBC.