The COVID-19 pandemic has brought about a global disaster and impacted societies in an unprecedented fashion. In Indonesia, the government has declared a 'stay at home' instruction along with others including working learning and worshiping from home. These have been extended several times until at least May 30, 2020. Some areas such as Jakarta, West Java, Makassar, and others are implementing large-scale social restrictions (the Indonesian lockdown) coupled with the prohibition of the annual exodus known as 'mudik,' in which millions of Indonesians traditionally return to their hometowns to celebrate the end of the fasting month. Government orders have compelled people to think more about alternative activities to survive amid this pandemic. Many companies have stopped operating and even gone bankrupt, resulting in an increase in unemployment. Likewise, the informal sector including hawkers, builders, and others are losing their jobs, which has also resulted in a huge loss of income. As such, this pandemic is greatly affecting Indonesia economically and financially.
Bali, a province in Indonesia, is a small island known as the 'Last Paradise' or the 'Island of God.' It has not escaped the effects of the pandemic. As of writing, the province has shown a decline of almost 100 percent in foreign tourists. Previously, the number of tourist arrivals reached approximately 4.5 million people each year while the population of Bali was only 3.8 million. Tourism in Bali has provided for the livelihood of the people. At present, the Indonesian Government has announced the closure of all commercial passenger traffic by air, sea, and rail until 1 June, 2020. Cruise ships no longer appear in the harbor and flights into I Gusti Ngurah Rai International Airport, which has always been busy with the landing and take-off of planes every 5 minutes, are suspended. All is quiet due to the ban on domestic and international flights. The tourism sector, including bus transportation, hotels, restaurants, souvenir shops, art markets, galleries, museums, and cultural events, heavily depends on people coming in. Yet, people employed in this sector are now losing their livelihood due to the ongoing pandemic.
IGA Rai Suryawijaya, chairman of the Indonesian Hotel and Restaurants Association of Badung Regency has said that Bali's economy is at its worst at any point in its history as hotel occupancy reached zero in early April (Bisnis 10 April, 2020). In fact, the impact of the pandemic is worse than that of the Bali Bombings of 2002 and 2005 and even worse than the November 2017 eruption of Mt Agung in eastern Bali. Since April, almost 96 percent hotels remained closed and as of today (May 13) it is predicted that 100 percent are now closed (146,000 rooms) due to no incoming tourists. The Chairman of the Indonesian Tourism Industry Association of Bali, Ida Bagus Agung Partha Adnyana, has also said that the potential loss to Bali's economy is US$ 9 billion (CNN Indonesia, 24 April, 2020). This has had a multiple effect on Bali impacting the hotel industry, restaurants, tourist attractions, workers, farmers, agricultural products, transportation, and others. The Central Bureau of Statistics of Bali has stated that growth is now negative that is –1,14 percent for the first quarter of 2020 (Jayani 2020). As 60-70 percent of the economy is dependent on tourism, this pandemic has brought the worst possible economic upon the island in its history.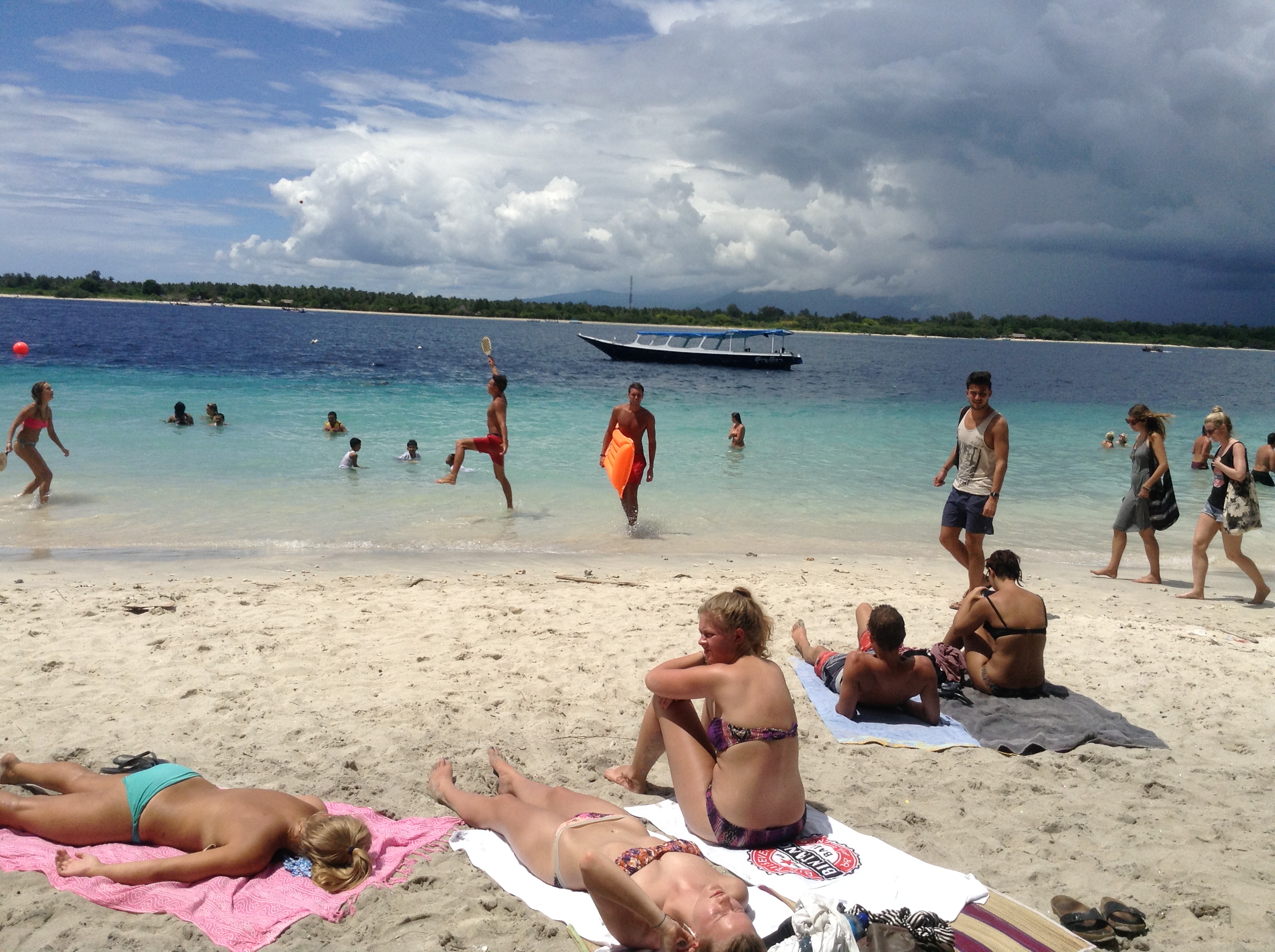 Tourists on the beach before the pandemic.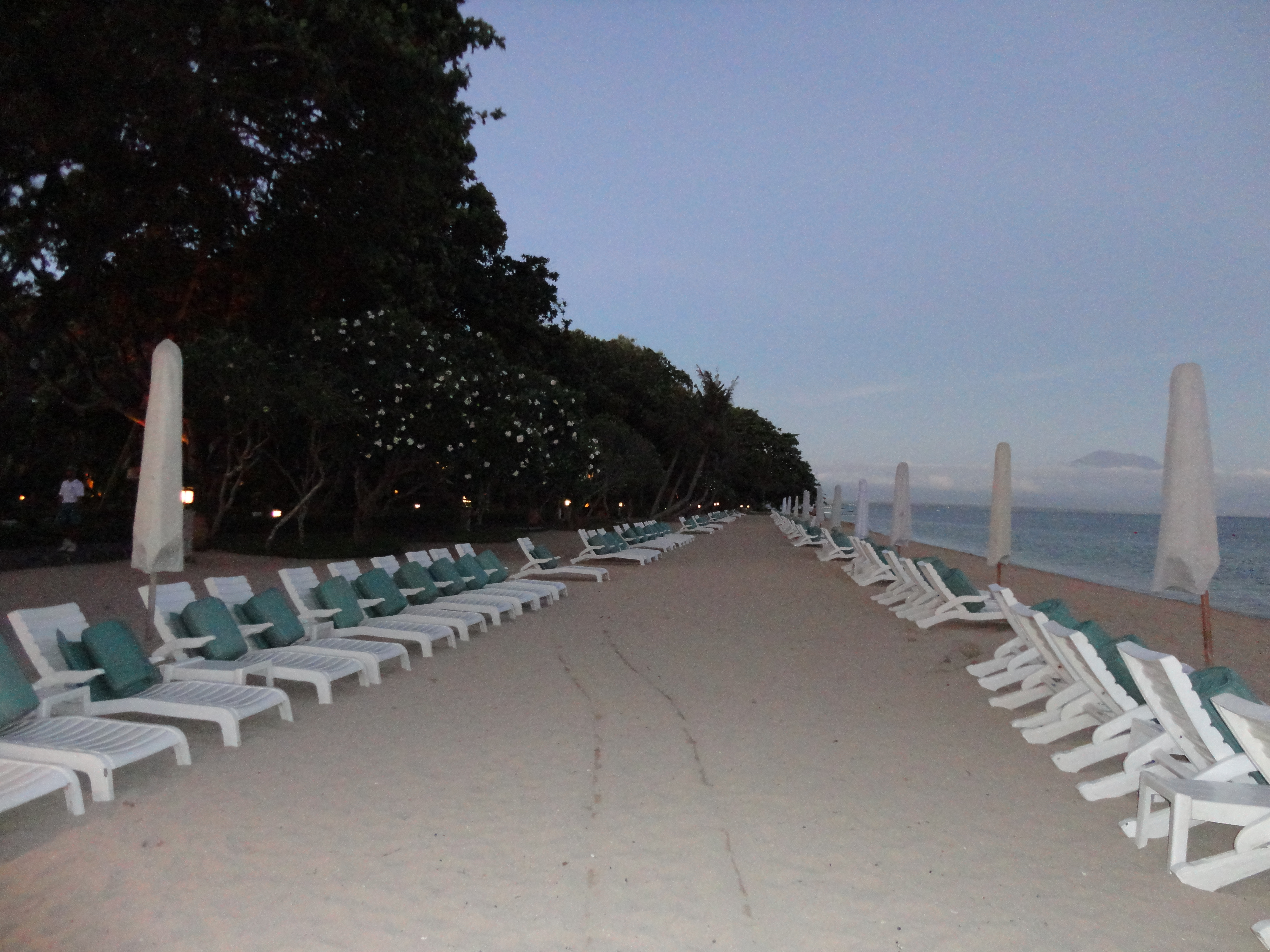 The situation now. Beaches are empty and quiet.
Employees have been laid off, leading to a sharp increase in unemployed and forced people to stay at home. This has resulted in a sharp decrease in economic activity. In fact, many migrant workers from Bali who worked on cruise ships have been forced to return and this, in turn, has produced another problem. They must be quarantined before they are allowed to return to their families. The major problems appeared when some Balinese employees refuse to be quarantined and roam freely instead of applying health and quarantine procedures, thus increasing the potential to transmit COVID-19. At present, we clearly see immediate economic damage due to the collapse of the tourism sector: it is paralyzed and refined the terms of death. It turns out that Bali's tourism has been destroyed by a pandemic in a matter of just a few weeks.
Affected tourism workers have returned to their villages and prefer to work on their agricultural land, which they had left when tourism provided better wages. And paddy fields and the lands have started to be cleared and planted with rice, vegetables, fruits, and other horticultural products. Workers have started farming and developing entrepreneurial agriculture through online-based marketing and products ordered are delivered to buyers' homes. Certainty, this has been a very positive change of activity amidst the pandemic. In effect, it has created a 'new reality.' Our 'new normal' condition of wearing masks during travel, carrying hand sanitizers everywhere, and washing hands frequently with soap in running water, has raised our awareness and understanding of the need for social/physical distancing. At every village border, guardian officers guard and spray disinfectant into passing vehicles. Thus, this has become a new habit, and a new normal to which we must adapt to in our daily lives. Urban people have started urban farming systems such as hydroponics, aquaponics, and seasonal plant vegetables and fruits in pots within limited yards. These trends have begun to be carried out as daily activities during the 'stay at home' period and also to support the food supply.
Agriculture has become a main activity that has replaced the paralyzed tourist sector which used to be the number one source of income in Indonesia, especially in Bali. Traditional markets and supermarkets are still open in a limited fashion so that agricultural products can be distributed. Indeed, transportation delivering food supplies is still allowed in some regions implementing large-scale social restrictions. What we can see that a passion and enthusiasm for farming has reappeared especially among the younger generation. Aside from production management, marketing management has also become very important during the spread of COVID-19.
Some challenges in agricultural development still need to be solved, such as marketing projects and suitable packaging and transportation that should be able to maintain the quality of products until they reach consumers. Many fruits such as mangosteen, durian, papaya and so on are abundant in villages. However, they are not well distributed due to the limited availability of buyers and transportation. This results in a very low price or forces them to spoil, rot, not be harvested or be used as animal feed. The role of the government, young entrepreneurs, or cooperatives is crucial and a system should be built that aims for a more advanced agriculture. Creative ideas are needed for better delivery systems and at a better price. This 'new reality' has brought a new culture, new spirit, and new market system and this is because no one knows when, exactly, the COVID-19 pandemic will end.
18 May, 2020
BIO:
I Gede Putu Wirawan is professor at the Faculty of Agriculture and the Center for Genetic Resources and Molecular Biology, Udayana University, Bali, Indonesia. He is the former Vice Rector for Cooperation and Student Affairs of Udayana University and a graduate of Nagoya University, Japan.
BIO:
Maria Malida Vernandes Sasadara is an MA student and research assistant at the Center for Genetic Resources and Molecular Biology, Udayana University, Bali, Indonesia. She will enroll in the Ph.D program in Agricultural Sciences in September 2020 at Udayana University.
Citation
I Gede Putu Wirawan, Maria Malida Vernandes Sasadara. 2020. "The Paralysis of Tourism and the Rise of Agriculture in Bali, Indonesia" CSEAS NEWSLETTER, 78: TBC.