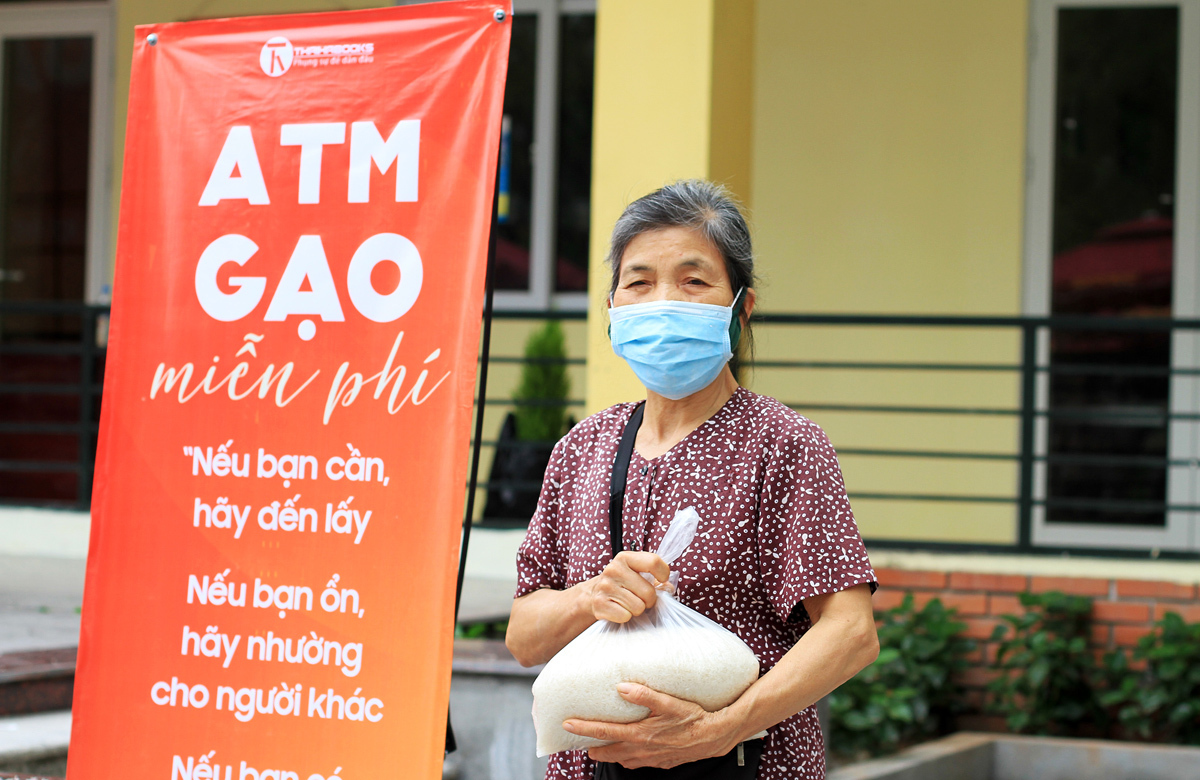 Woman who has just collected some rice
Vietnam has 265 cases of the novel coronavirus and zero deaths, numbers that are significantly lower than the rest of the world. But still, to prevent further spread, the government has enforced social distancing, effectively shutting down many small businesses and leaving millions out of work.
For these people who are suddenly without income, businessmen and donors have set up machines that dispense free rice at several cities across Vietnam. The advent of the Coronavirus highlights the gap between the rich and the poor more clearly than ever. For those with savings, sustainable finance has taken advantage of the shutdown period, and they can enjoy a laidback lifestyle, enjoying time with family, indulging in entertainment or learning new things. Yet millions of people trade on the sidewalks with no savings and have to chase after every meal. Workers who earn a living from street businesses have suffered the most under a nationwide stay-at-home order to help stop the spread of the virus. As a result of this, many small businesses have been forced to close. Millions are left unable to work.
In Vietnam, the sidewalk economy is a spontaneous informal activity that depends on the relationship between people and it shapes cities and the unique character of Vietnamese society. The million-dollar question now is what happens when there's no one left on the sidewalk?
After a month of shutdown (as of April 25), almost all trading activities are temporarily closed, and people stay at home to avoid the pandemic. Vietnam's economy now faces its biggest challenge since the Doi Moi period: a double crisis caused by two epidemics: a crisis caused by a blockage of production materials from China and South Korea and the output crisis caused by European countries. The United States' social isolation has now reduced consumption. Looking back into the past, even in the darkest time of the world economic crisis of 2008, Vietnam's official unemployment rate fell as low at 4.65% as many people lost their jobs in the formal economic sector. Many returned to their hometowns to work agriculture or on the sidewalk to make a living. Our sidewalk economy has become a lifesaver for millions of people in our toughest moments. But during this crisis, social isolation may help to stop the spread of the virus, but it also stops the vitality of the sidewalk economy. We have no idea what will be the scenario for the millions of people who are still clinging onto the sidewalk for hours every day.
Our government passed a VND62 trillion (US$ 2.6 billion) financial support package for poor people and businesses affected by the Covid-19 pandemic. Yet the poor people still wait.
While waiting for support, some entrepreneurs came up with the idea to quickly aid those in need. Vietnam entrepreneurs have sets up 'rice ATMs' to provide free rice to people without employment in Vietnam due to the coronavirus crisis and this has been reported internationally by CNN. A machine that gives out free rice: it sounds too good to be true. But these "rice ATMs" have been set up around Vietnam to help those who need it most during the coronavirus pandemic. For many unemployed, this rice ATM has been a lifeline. With this one bag of rice, they can have enough for one day.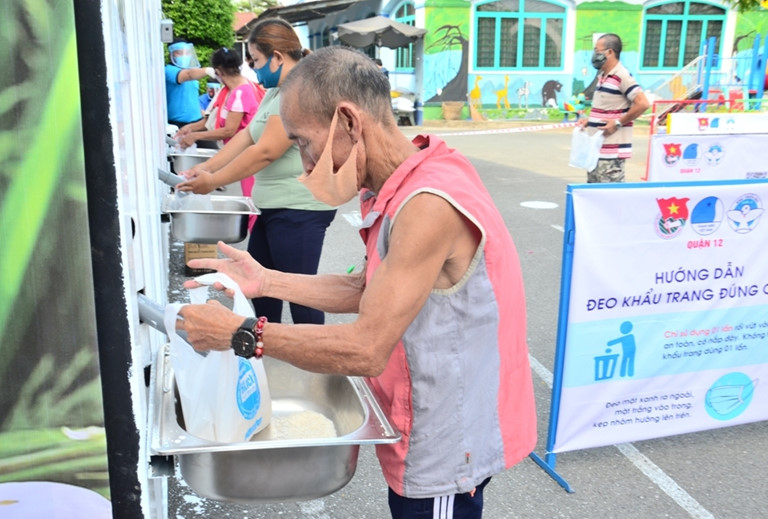 People collecting Rice at Rice ATM
A beautiful idea like a rice ATM to help those who are in difficult situations -losing their jobs- may have provided basic food, but it also encounters unexpected issues when applied in practice. After about 10 days of active service, the ATMs, now operating in many regions in major cities of Vietnam, have experienced a number of sensitive issues. The original purpose of these rice ATMs was to provide the recipient with respect: they are not a form of "begging" for food. They were designed to let people take rice for themselves, without the need for many people to stand by, thus avoiding direct contact between both the giver and the receiver (sometimes a cause of embarrassment and self-pity). A number of ATM management units, who are in charge of rice resources (often donated by people and businesses) to distribute to people in need of help, have experienced difficulties in operating them. What is the criteria for deciding on the level of support? How to subtly support while avoid causing mental anguish to the recipient has not been taken into account.
In Hanoi and other major cities, some ATM became overwhelmed by people, mostly older women and the elderly, some young people and those riding scooters (which is, ironically, a symbol of wealth). This raises the suspicion that some people who are "not poor" are coming to receive aid. Now there are suggestions to use face recognition machines and provide an identity card number if you want to receive support. Specifically, the ATM closing point at the National Economics University set an ATM using the university's research product, to facial recognition and required rice recipients to remove masks and present identity cards. Those who wait in line recived 1.5 kg of rice and 1 kg of sugar (with a total value equivalent to US$2). Irrespective of the level of support, there is little opposition to the way the university carries out it distribution of rice through the use of people's information testing a research product and this does make netizens feel very uncomfortable.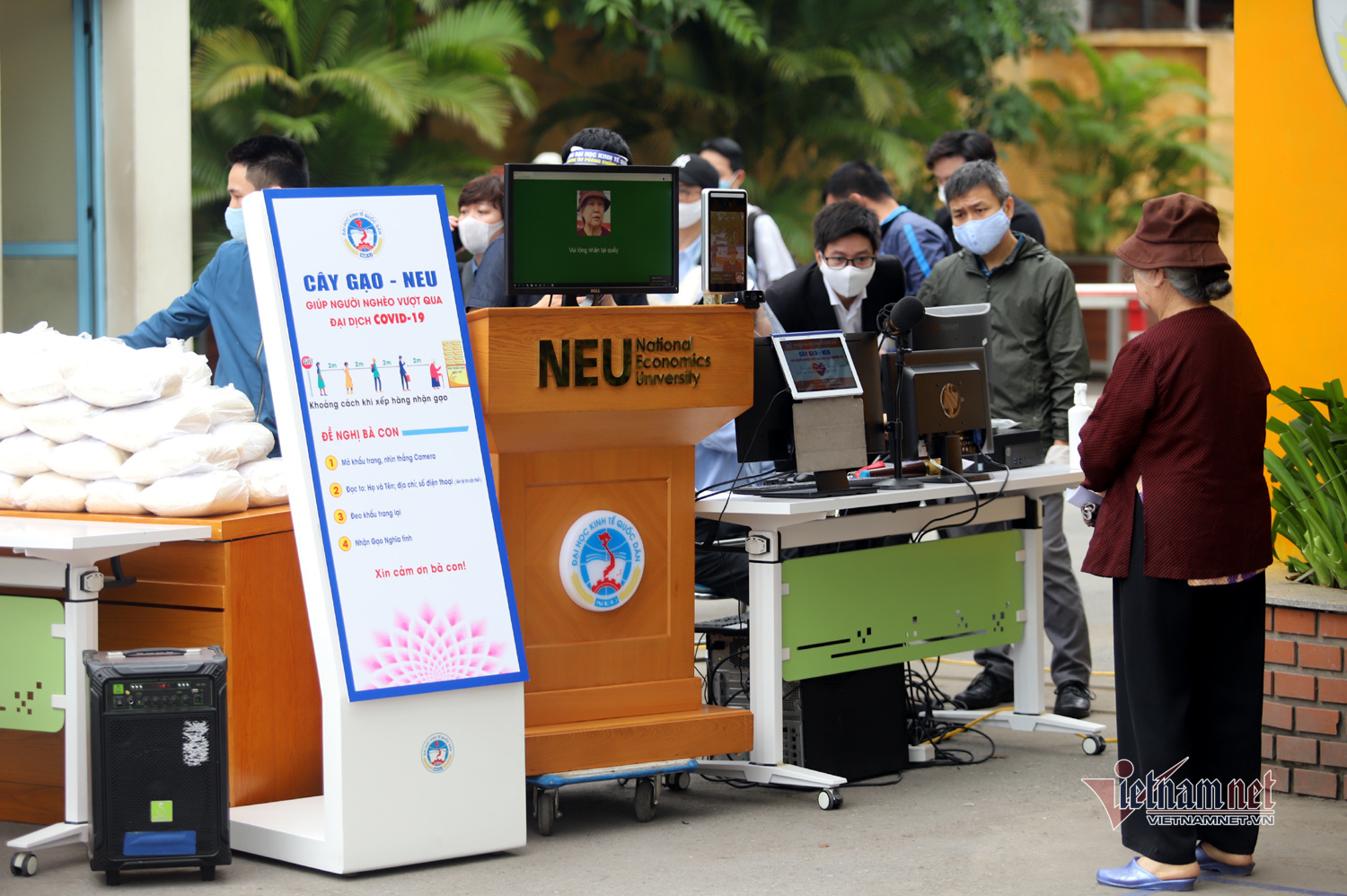 People queing for facial recognition at the National Economic University
There are cases where young people come to receive rice support from ATMs and one girl was rejected because she didn't look "poor enough" and left in shame. The video record of this case went viral on social networks and caused a controversy as to how to conduct charity under these circumstances. Whether or not the concept of rice support for the poor should change the notion of aid for the Corona disadvantaged in general, support must avoid harming (shaming) recipients.
Many people believe that efforts to combat this pandemic shouldn't be at any cost. Removing the threat of hawking (to spread infection) from the entirety of the sidewalk economy is dangerous. Most people who live on the sidewalk have very little money to keep the shirt on their backs especially if this pandemic will be prolonged.
The time has come for the Vietnamese government to classify sidewalk services as essential services that sell goods and bring income home. Let us remember, and remember well, that it is the pavement that helps tens of millions of Vietnamese to feed their families. This has created and sustained the miraculous endurance of Vietnam's relatively small economy.
23 April, 2020
BIO:
Nguyen Thi Khanh is an experienced reporter for the VNExpress Vietnam's most popular online newspaper, and an independent documentary filmmaker based in Ho Chi Minh City. She currently works as a communications executive in Da Nang. She directed her first documentary film Below the Boulevard (2016), a story of a veteran with disabilities and in 2017, she was selected as one of 10 fellow ASEAN filmmakers for a filmmaking workshop at the Luang Prabang Film Festival, in which she directed the documentary film The Giving. Her most recent documentary An Unquiet Land (2019) was selected for screening at the Visual Documentary Project (VDP) 2019.
Citation
Nguyen Thi Khanh Ly. 2020. "From Rice ATMs to Giving a Helping Hand" CSEAS NEWSLETTER, 78: TBC.